Anniversary Week continues! This post is in the top five of all time in the last year. Don't just come to church…BE the Church!
 "No man is an island." ~ John Donne
"Come, you who are blessed by my Father, inherit the Kingdom prepared for you…For I was hungry, and you fed me. I was thirsty, and you gave me a  drink…when you did it to one of the least of these my brothers and sisters, you were doing it to me!'"  Matthew 25:34-40.
Jesus has always called us to reach to the "least of these", to serve the needs of others as He did.
"I tell you the truth, anyone who believes in me will do the same works I have done, and even greater works, because I am going to be with the Father." John 14:12.
One of the greatest examples of the apostles being the Hands and Feet of Jesus in the early Church is found in the third chapter of the Book of Acts. Peter and John were on their way to the Temple to pray, like they did every day at around three o'clock. There was a man who was lame from birth being carried in. Every day, he was put beside the Temple gate, the one they called the Beautiful Gate, so he could beg from the people going into the Temple.
When the lame man saw Peter and John, he asked them for money too, but Peter said, "Look at us! I don't have any silver or gold for you. But I'll give you what I have. In the name of Jesus Christ of Nazarene, get up and walk!" Acts 3:4-6 NLT.
According to the Word, and the Name of Jesus, the man's feet and ankles were instantly healed! He jumped up and began to walk! The Bible said he went "…walking, leaping and praising God…into the Temple with them." Acts 3:8 NLT.
Peter and John were being the Hands and Feet of Jesus! Jesus had already ascended into Heaven. He had told the disciples to wait for the Promise of the Father, the Comforter, which He would send. And He did! They were all filled with the Holy Ghost, according to Acts 2. And the Church is born.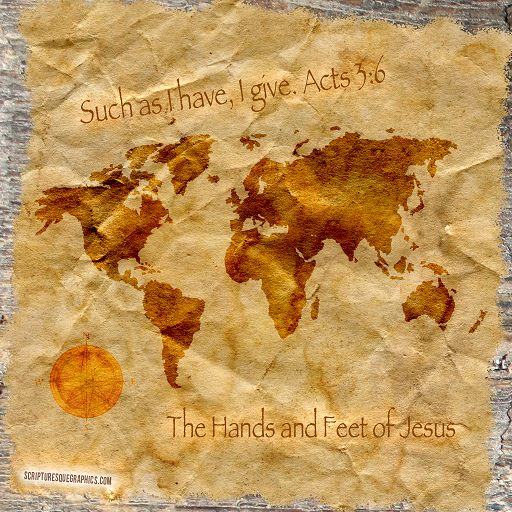 We are the continuance of the Early Church! We are Acts 29! And the only way we can continue to write that 29th chapter is to be the Hands and Feet of Jesus.
"You are the light of the world. A town built on a hill cannot be hidden. Neither do people light a lamp and put it under a bowl. Instead they put it on its stand, and it gives light to everyone in the house.  In the same way, let your light shine before others, that they may see your good deeds and glorify your Father in heaven." Matthew 5:14-16 NIV.
Jesus entrusted us to be the Light when He left us "in charge" of things here on this earth. Here we find ourselves in the "Endtime". It doesn't take a scholar or a theologian to realize that things are winding down. Jesus is coming back for His Church, His Bride! But that doesn't mean that we are to sit back and just wait for Him to catch us away! No! We are to be about our Father's business! We must be the Hands and Feet of Jesus!
We are responsible to reach out as much as we possibly can to touch as many as we can with the Good News that Jesus is alive and lives to give eternal life to all who want to partake of it.
"How then shall they call on Him in whom they have not believed? And how shall they believe in Him of whom they have not heard? And how shall they hear without a preacher? And how shall they preach unless they are sent? As it is written: 'How beautiful are the feet of those who preach the gospel of peace, Who bring glad tidings of good things!'" Romans 10:14, 15 NKJV.
The story is told of a small town in Italy that had a beautiful statue of Jesus in its town square. One day there came a horrific hurricane that devastated the city. The statue was toppled and when the clean-up crew finally came around they found that the statue was mostly intact except that the hands and feet were missing and crushed beyond repair.
It was finally decided to erect the statue back to its original place and a plaque was put up that said, "Jesus has no hands and feet except yours…"
Those words are true for us today. We are His hands and feet in this world. The Sweetheart says this so often in his sermons, "He didn't save us just to save us. We are here for a bigger purpose. He saved us to reach others." He means that after salvation we aren't just to sit down and fold our hands and wait for Heaven! Jesus told us to go into all the world and share this truth. We have a responsibility!
Let us do all we can today to reach our world with the Good News, the Gospel that Jesus Saves!