It's #FiveMinuteFriday and today's word prompt is Haven. If you want to read other posts on the same subject you can go to Kate's place here!
I immediately thought of the words to the old hymn, Haven of Rest and will now have it in my head for days. The author, Henry Gilmour, was an immigrant from Ireland. He had set sail at the age of 16 to learn navigation but when they arrived in Philadelphia, Henry decided to stay in America and seek his fortune. He earned his living as a house painter and serving in the Civil War, was captured and spent time in a confederate prison. After the war, he trained as a dentist, an occupation he would have for many years.
Henry also knew the Savior, which is obvious by his hymns. One of my favorite verses is the very first:
My soul in sad exile was out on life's sea,
So burdened with sin and distressed,
Till I heard a sweet voice, saying, "Make Me your choice";
And I entered the "Haven of Rest"!
Is it really that simple? Will our burdens be lifted and our life free of pain, worry and stress if we make Jesus our choice?
Yes.
And no.
True, our troubles may not vanish but the sweet peace that comes with knowing Jesus can carry us through any situation. He is our safe haven!
So what is a haven? It is simply a refuge, or place of safety or an inlet providing shelter for ships or boats; a harbor or small port. We witnessed first hand several beautiful safe havens when we were on the Mediterranean island of Malta last year.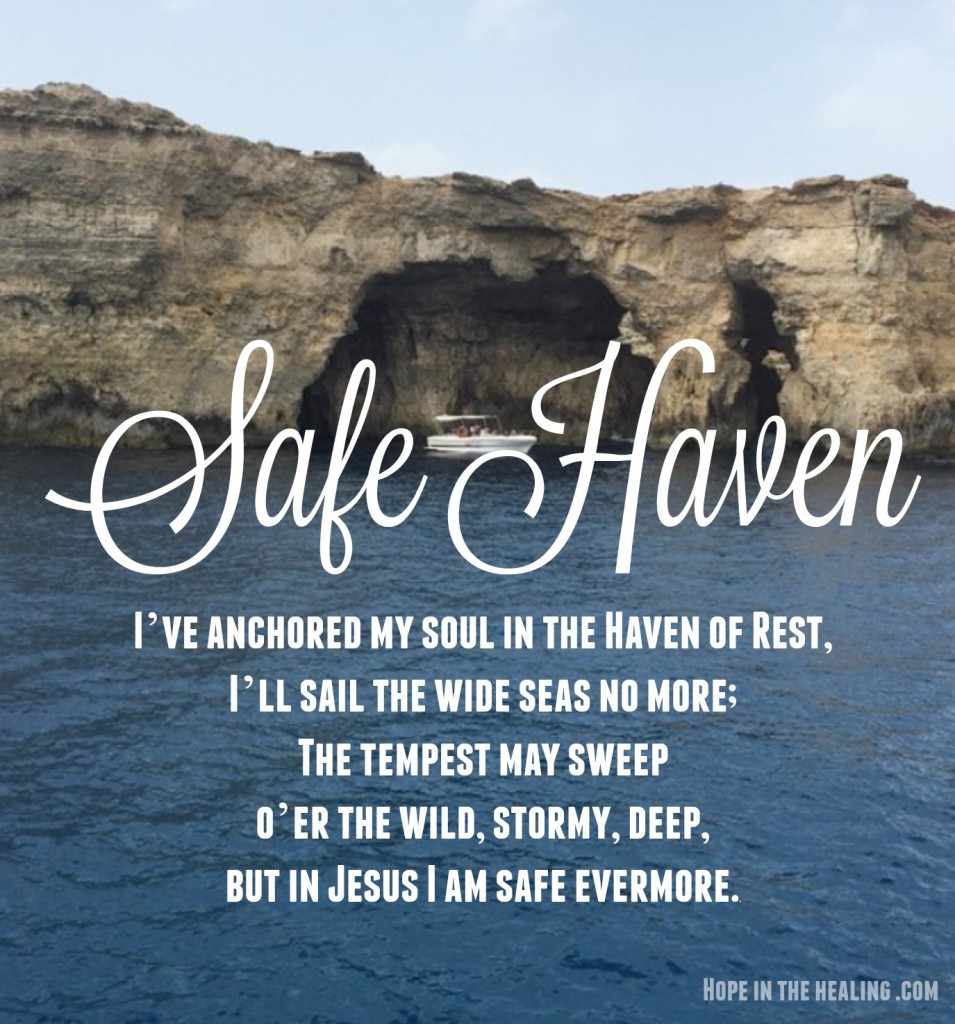 You can't see the inlet itself here but picture a violent storm and this small boat tossed about on the waves of the sea. Certain that they will be lost in the storm, all of a sudden they see a shelter, a place of refuge, a literal safe haven.
"He made the storm be still, and the waves of the sea were hushed. Then they were glad that the waters were quiet, and he brought them to their desired haven." Psalm 107:29, 30 ESV.
Carved out of the rock, a perfect place for shelter, a safe haven away from the storm! That is the key!
He shows His hand and His mighty power by protecting us, sheltering us or covering us with His strength to do the unimaginable. Philippians 4:13.
Are you searching for peace and safety? Do you need a place of refuge and someone to lift the heavy load you are carrying? There is such a place just for you when you make that choice. Jesus is calling! You were not meant to bear your burdens alone, let Him carry them for you and bring you peace today. Anchor your soul in the Haven of Rest!
I've anchored my soul in the Haven of Rest,
I'll sail the wide seas no more;
The tempest may sweep o'er wild, stormy, deep,
In Jesus I'm safe evermore.
If you have never heard this comforting hymn, take a listen: