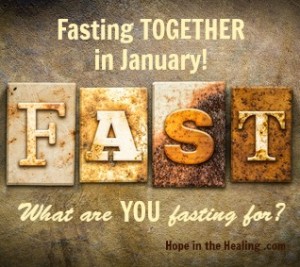 God is fighting for you!  If you have missed any posts, or just need some extra encouragement, go here to catch up! Blessings to you as you fast unto the Lord.
Jehoshaphat didn't waste any time when he found out that Judah was about to be attacked. He did what any smart man of God would have done. Any king that knew of the God of Abraham, Isaac and Jacob would call a fast. Not just any fast, but all of Judah came together to pray and seek their God for His help.
The end of their prayer for help went like this: "O our God, wilt thou not judge them? For we have no might against this great company that cometh against us; neither know we what to do: but our eyes are upon thee." 2 Chronicles 20:12 KJV.
They came together in unity, with their wives, their children, the Bible even says "…with their little ones."
Then something powerful happened. Jahaziel was standing there with the rest of them when suddenly the Spirit of the Lord came upon him and he said, "…Thus saith the LORD unto you, Be not afraid nor dismayed by reason of this great multitude; for the battle is not yours, but God's…Tomorrow go ye down against them…and ye shall find them at the end of the brook…Ye shall not need to fight in this battle: set yourselves, stand ye still, and see the salvation of the LORD with you, O Judah and Jerusalem: fear not, nor be dismayed; tomorrow go out against them: for the LORD will be with you." 2 Chronicles 20:15-17 KJV.
What an answer to prayer!
What power!
What authority!
The next morning they got up early and headed into the wilderness and King Jehoshaphat said, "Believe in the LORD your God, so shall ye be established; believe his prophets, so shall ye prosper." 2 Chronicles 20:20 KJV.
I love what he does next. He appointed singers, "…unto the LORD, just to praise the beauty of holiness, and as they went out before the army, just to say, Praise the LORD; for his mercy endureth for ever." Wow!
They took time to praise the LORD in the MIDDLE of the battle!
So what did they do since they didn't have to fight? They worshipped and gave Him the praise that He deserved.
They had fasted; they had prayed.
He had heard; He had answered.
Now they were giving Him back the praise because He was worthy. When they began to sing and praise, then the LORD began to act. The Bible says He set an ambush against the Ammonites, Moabites and Mount Seir and they were all smitten!
Why did the children of Judah not have to fight? The children of Ammon and Moab stood up against the inhabitants of Mount Seir, trying to destroy them. So when they had accomplished that then they destroyed one another!
When Judah showed up at the watch tower in the wilderness they looked out at the multitude and all they could see were the dead, "none escaped."
"And the fear of God was on all the kingdoms of those countries, when they had heard that the LORD fought against the enemies of Israel."
Good news travels fast. Bad news travels fast. God had delivered His people once again because they trusted in Him.
What can you believe God for today? What are you needing an answer for in your life? What battles are you trying to fight on your own?
Stand still and see the salvation of the Lord!
He is your VICTORIOUS WARRIOR and this is HIS BATTLE, not yours! Let Him take care of it for you. Trust Him, put your confidence in Him and then do what King Jehoshaphat and his people did…
Worship and give Him praise for the victory that is coming. Whether you see it today or tomorrow doesn't matter. He is in control and His timing is perfect. Trust Him for the victory and then rest in His promises.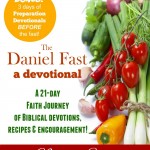 This was a complete chapter from The Daniel Fast Devotional. There are 21 days of devotions, three days of preparation and plenty of Daniel Fast recipes in this go-to book. Check it out on Kindle or paperback here on Amazon.