I Choose to be Distracted! 13 tips to help deflect chronic pain (Pt. 2)  Joining my friend, Joy Terrell, for the second part of her wonderful suggestions for helping to distract from chronic pain. If you missed the first one you can find it here! Be blessed!
Yesterday, we focused on things that you could gather ahead of time and have ready for those days when functioning is a chore all its own. Today, there are other helpful activities that do not require any physical things but are just as helpful!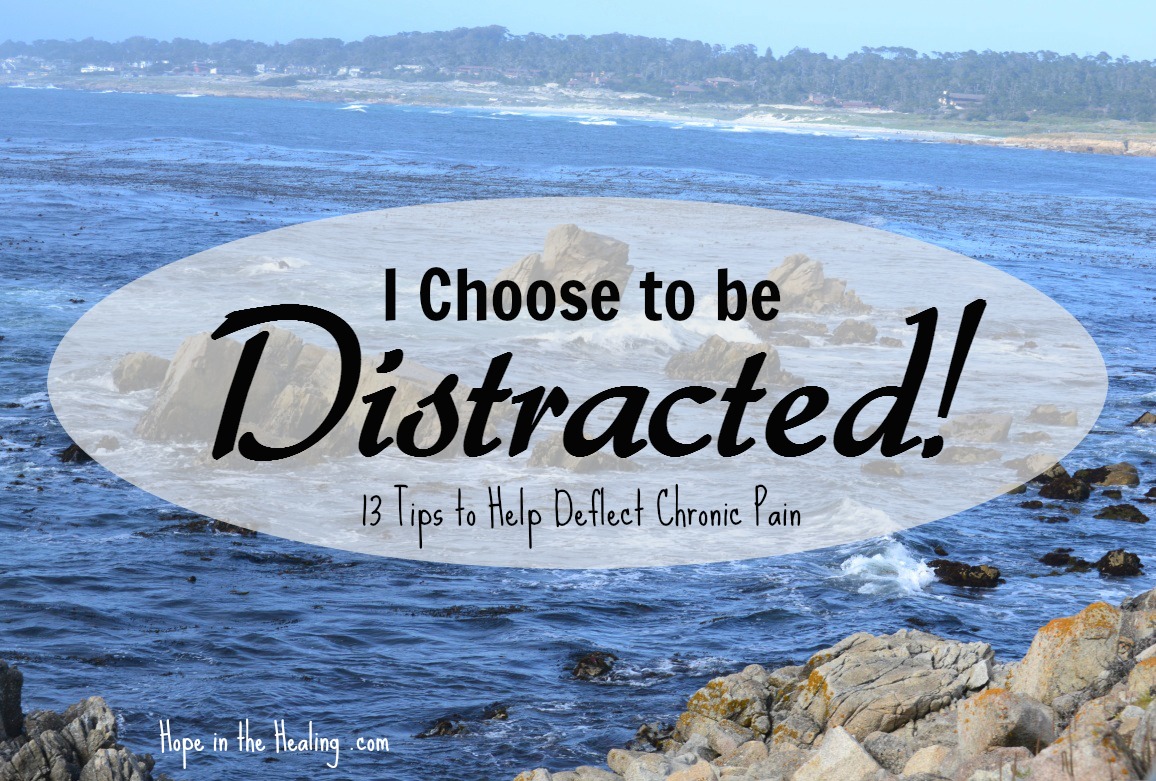 Before dismissing these, give them a try. Remember, focusing your attention away from your pain is the goal. Keep your brain busy! Don't allow your thoughts to wander back to your pain.
• Prayer or meditation can be calming and soothing.
• I find guided imagery to be very effective. All it requires is your imagination. Think of a place that makes you feel happy and safe. Allow yourself to remember the sounds, smells and other attributes that make this place special. For instance, I like to transport myself to the beach. I feel the sun warming my face, feel the sand as my bare foot sinks into it, hear the seagulls squawking, feel the spray of the ocean, hear the waves, feel my hubby's hand holding mine. You get the idea. The possibilities are limited only by you!
• Controlled breathing is also a great technique. It takes concentration to slow down and control each breath. There are many apps available to help you learn to do this. I have used this when in line at the grocery store, and the pain is screaming at me. You can do this anywhere, and no one will even notice.
• Here are a couple of things that may sound clichéd, but they are useful. Turn your thoughts to gratitude. Yea, I know it's hard to think gratitude when your pain is a 10. Just do it! Think of five people you are grateful to have in your life. Think of the things they have done to make your list. Think of five blessings you are thankful for. The list could go on and on.
• Another thing that sounds a little bit hard is to do something to show compassion to someone else. No one understands compassion like someone who has suffered their own share of misery. This doesn't have to be a major production. Write a note in a card for someone who is lonely or hurting. It will make both of you feel better. Send a text that says you are thinking about and saying a prayer for someone. It doesn't take much to brighten a day. You can't think about yourself while caring about another person.
• Doing some gentle stretching and range of motion exercises can be helpful. Just saying the word exercise can sometimes be painful! But, if you can get yourself moving a little bit, you just might feel better.
By now, you may be thinking I am crazy if I think these things will fix your pain.
Here is the bottom line, nothing short of a miracle, is going to fix your pain.
The best pain medications will take off the edge, but never make you pain free. Distractions will not fix it. However, they can get your mind off it. Experiencing pain requires you to consciously think about it. Remember, your brain can only focus on one thing at a time. None of these ideas are intended to be used 24/7. If I can distract myself from the pain for even a short time, that break gives me the ability to carry on. Maybe you are waiting for pain medication to kick in. Dwelling on how much it hurts, will make the wait seem forever. We do have a choice about the way we allow ourselves to react to chronic pain. I think I will choose to be distracted!
Joy is a graduate of Purdue University School of Pharmacy. She is a licensed pharmacist, in early retirement. She is married to her favorite guy, Doug. They are "pet parents" to Kenzi, a golden doodle. Joy has served her church family as a Sunday school teacher, church secretary/treasurer, board member, and a willing helper.