Did Jesus actually sweat blood in the Garden of Gethsemane? Today is obviously the day before Good Friday, the crucifixion. But today there is also The Cup, the agony in the Garden, and I just cannot get away from it. Most of us are aware of Jesus praying in the Garden of Gethsemane, right before He arrives with the soldiers, and He prays to be spared the suffering that is to come. He knows the agony He must endure and He prays, "Father, if it is possible, let this cup pass from Me; Yet not as I will, but as you will." Matthew 26:39, NIV.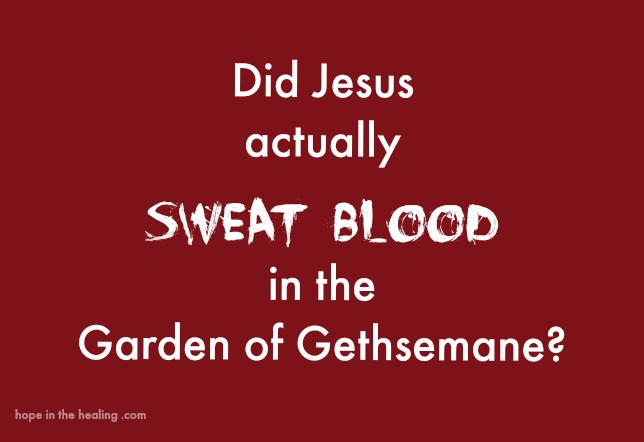 When the mother of James and John approached Jesus with the request for her sons to sit on His right and left in the Kingdom, Jesus asks them, "Are you able to drink from the bitter cup of suffering I am about to drink?""Oh yes, we are able!" they replied.  But they didn't understand what they were saying. It was a cup filled with Old Testament and New Testament sins and judgment from the past and the present and it was filled with our sins too. Mine, yours, the ugly, the whispered, the hushed, the secret, all of them from the beginning of time were in the cup.
So while Jesus leaves the disciples to keep watch, He goes to pray. But it isn't just, "Now, I lay me down to sleep" prayers. The Bible says, "…being in anguish, He prayed more earnestly, and His sweat was like drops of blood falling to the ground." Luke 22:44, NKJV.  
Luke is the only Gospel writer to mention this, maybe because he was a physician. Luke is also the only one to refer to Jesus as being in agony. Jesus was in such a state of physical and spiritual agony that he could have produced what is known as hematohidrosis, or hemohidrosis, a rare medical condition where a person may actually sweat blood! Acute fear and intense mental contemplation were found to be the most frequent inciting causes. While the extent of blood loss generally is minimal, hematidrosis also results in the skin becoming extremely tender and fragile. Around the sweat glands, there are blood vessels that when under pressure and great stress they constrict. Then when the anxiety passes, they dilate to the point of rupture and the blood then goes into the sweat glands. When the sweat glands are producing a lot of sweat, it pushes the blood to the surface, coming out as drops of blood mixed with sweat. (Barbet, 1953, pp. 74-75; Lumpkin, 1978).
True, we do not know if our Savior actually sweated blood, but it is interesting that it is mentioned. We do know that He prayed so earnestly that He did sweat! So intensely that it was dripping on the ground. Sweat is introduced in Genesis 3:19, introduced with Sin. Matthew Henry says it like this: "And therefore, when Christ was made sin and a curse for us, he underwent a grievous sweat, that in the sweat of his face we might eat bread, and that he might sanctify and sweeten all our trials to us."
Surely Jesus was aware of the suffering that was to come. We get our word excruciating from the word crucifixion. It was one of the most painful torture methods ever invented.  It was perfected by the Romans and reserved for the most vicious of criminals. It was a hideously, slow and painful death. "I am poured out like water, and all My bones are out of joint." Psalm 22:14. (Click here if you want to read an extensive medical breakdown of the crucifixion.)
But it wasn't just the agony of the crucifixion; it wasn't just the taunting of the Roman soldiers, the beatings he would endure or the humiliation. The real stress and fear was the knowledge that He would bear the sins of the world and would be forsaken by the Father. He could have easily avoided all of this if He wanted to and called ten thousand angels to His side at any moment! "He was oppressed and He was afflicted, yet He opened not His mouth; He was led as a lamb to the slaughter, and as a sheep before its shearers is silent, so He opened not His mouth." Isaiah 53:5-7, NKJV.
But He faced the fear so we wouldn't have to and kept praying, "Yet not as I will, but as You will." Matthew 26:39,NIV.
John Piper says it so beautifully, "If we were to look at Jesus' death merely as a result of a betrayer's deceit and the Sanhedrin's envy and Pilate's spinelessness and the soldier's nails and spear, it might seem very involuntary. And the benefit of salvation that comes to us who believe might be viewed as God's way of making a virtue out of a necessity. But once you read Luke 9:51, all such thoughts vanish. "As the time drew near for him to ascend to heaven, Jesus resolutely set out for Jerusalem."
He planned it all and He appointed a time, for you, for me. "For you know that God paid a ransom to save you from the empty life you inherited from your ancestors. And the ransom he paid was not mere gold or silver. It was the precious blood of Christ, the sinless, spotless Lamb of God." 1 Peter 1:18, 19
"From these factors, it is evident that even before Jesus endured the torture of the cross, He suffered far beyond what most of us will ever suffer. His penetrating awareness of the heinous nature of sin, its destructive and deadly effects, the sorrow and heartache that it inflicts, and the extreme measure necessary to deal with it, make the passion of Christ beyond comprehension." -Dave Miller Ph.D. Apologetics Press
Tomorrow is Good Friday. B.C. always had the best Good Friday and Easter cartoons. This one is just extra Good. Join me tomorrow for a look at this Good Day.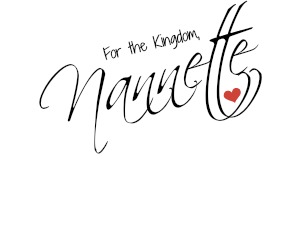 Barbet. P. (1953), A Doctor at Calvary: The Passion of Our Lord Jesus Christ as Described by a Surgeon (Garden City, NY: Doubleday Image Books).