God never said the weapons wouldn't form. We are back in Riga, Latvia for the next couple of weeks and enjoying reuniting with old friends and meeting new faces. The weather here has been perfect but the rain and cooler weather is coming back. Not complaining since there is no air conditioning in most places! Follow our journey; we will be reporting great things!
Weapons. They are a hot topic today. They are used against us and they are used to protect us. They are necessary and they can be detrimental. I am not here to debate gun control except to say I would be happy to have a weapon to defend myself and my family if it came down to it. I pray that right is never taken from us!
Last November, in the three simultaneous terrorist attacks in Paris, one occurred in a cafe. Absolute chaos had taken over as people scrambled to escape. Some were hiding under tables, chairs, under the counter, wherever they could find a place of escape. One woman was hiding by the front door when one of the terrorists approached her with aAK-47 and he put it to her head and pulled the trigger.
It did not fire.
In stunned disbelief, he lifts the weapon away from her, instead of firing again, and walks away as she runs out the door.
At the end of that day of carnage, 129 people had perished.
No weapon that is formed against you shall prosper; and every tongue that shall rise against you in judgment you shall condemn. This is the heritage of the servants of the LORD, and their righteousness is of me, says the LORD. Isaiah 54:17
Just reading this scripture, we could surmise that what that woman in Paris experienced that day is what every Christian would experience and benefit from every day of their life.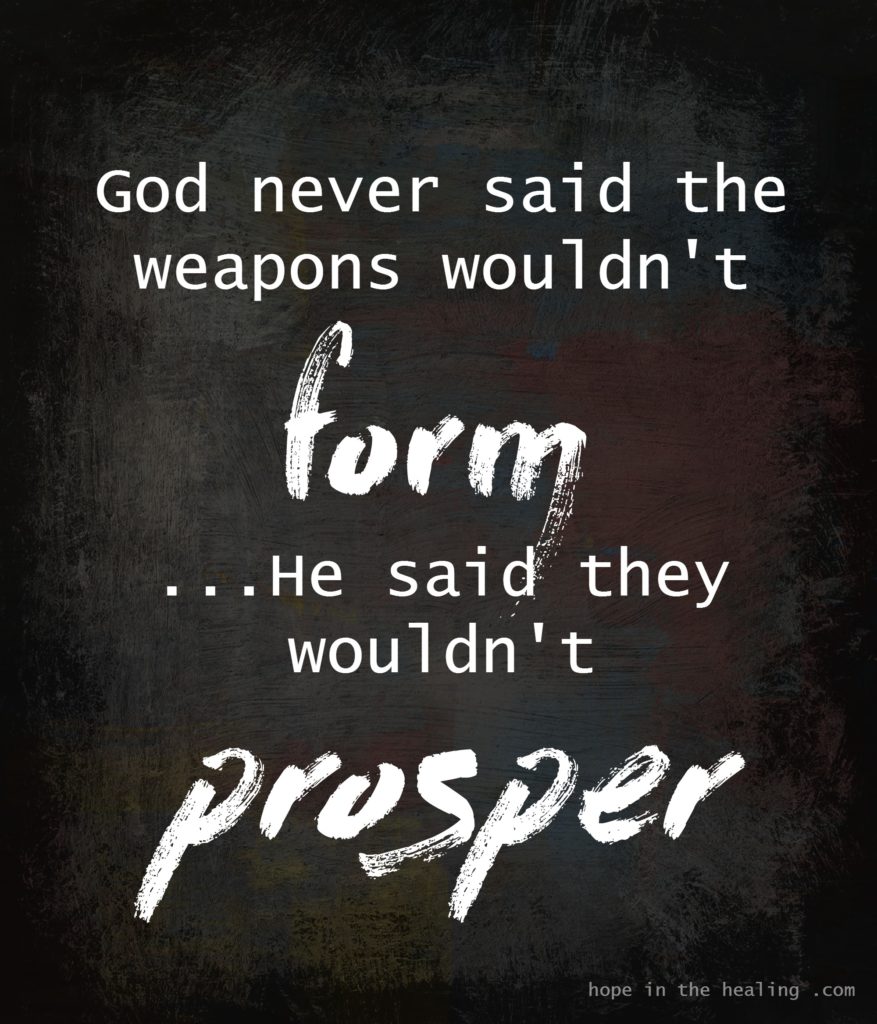 The verse doesn't say the weapon won't form, it doesn't say it won't be put to the test, or that the enemy won't come after us with his fiery darts. No, it says the weapon will not prosper.
Let's look at that as well. If we took that at face value, we would say or assume that a Christian would never be killed by the enemy or a terrorist or anyone else. That God would intervene and jam the chamber on every weapon. But we know that doesn't happen. We know bad things happen to good people, the righteous have been crucified, the disciples all gave their very lives, and many thousands of Christ-followers since then have perished.
So, what does it mean?
I think we have to look at the verse before this one to break it down.
See, it is I who created the blacksmith who fans the coals into flame and forges a weapon fit for its work. And it is I who have created the destroyer to wreak havoc…
Who is in control here? The One who created the blacksmith that forges the weapon for the work! And that craftsman is under the Lord's control. He ultimately decides if and when a child of God is taken out of this world and no matter the weapon, if it is not God's time, it won't happen.
Albert Barnes, Notes on the Bible, says it well:
Behold, I have created the smith – The sense of this verse is, "Everything that can effect your welfare is under my control. The smith who manufactures the instruments of war or of torture is under me. His life, his strength, his skill, are all in my hands, and he can do nothing which I shall not deem it best to permit him to do. So with the enemy of the church himself – the waster who destroys. I bare made him, and he is wholly under my control and at my disposal." The smith who bloweth the coals, denotes the man who is engaged in forging instruments for war, or for any other purpose. Here it refers to him who should be engaged in forging instruments of battle to attack the church; and why should it not refer also to him who should be engaged in making instruments of torture – such as are used in times of persecution?
I have created the waster to destroy – I have formed every man who is engaged in spreading desolation by wars, and I have every such man under my control (see the notes at Isaiah 10:5-7; Isaiah 37:26-27; Isaiah 46:1-6). The sense here is, that as God had all such conquerors under his control, they could accomplish no more than he permitted them to do.
So what is it in your life that has you in turmoil? Are you facing persecution? Is your job on the line? How about your health or that of a loved one? Relationships? Children away from God? Anxiety? Insomnia? Worry about the future? The state of the world?
It may seem as if the enemy is having a field day, so to speak. But he can only do what God gives him time and space for and just like Job, he cannot take our lives, only God has the power to do that. Does that mean we are completely out of danger because we walk with God?
Christians die too. We are all appointed to leave this life at one point in time but the good news is that we don't check out until He says so! He is ultimately in control! He not only decides whether the weapon is used against us, He decides who forges the weapon! And that enemy, that weapon, can do nothing unless God says so.
If that doesn't bring comfort to you, I don't know what will. Our God is sovereign and yes, even though we live in a broken and sin-filled world, and we will until Jesus comes, that is the hope…that He will come again, we will have a way of escape whether it is here in this life or in the catching away…we win because He won.