Memories, Anxieties and All Things Pumpkin Spice
"When I said, My foot slippeth; thy mercy, O Lord, held me up. In the multitude of my thoughts within me thy comforts delight my soul." Psalm 94:18-19.
 Your comforts delight my soul. Doesn't that phrase alone just cover you like a blanket?! When the anxieties of this life pile on us, overwhelm us and our foot slips, the Lord will hold us up.
His comforts will delight our very soul.
This time of year is a comforting time.
The turning of the leaves.
The cooling of the temperatures.
Getting out our sweaters and boots.
Snuggling up with a throw and a cup of hot chocolate.
Campfires and caramel apples.
And plenty of pumpkin spice!
As soon as September arrived, if not before in some places, the pumpkin flavored treats began sprouting up everywhere. We can't escape it! You either love it or dread it but it is here to stay. At least until the peppermint and gingerbread arrive for Christmas.
But why? What is it about pumpkin spice that causes us to swoon, possibly drool, and get out the cookbooks and cake pans?
Nostalgia. I blame it all on nostalgia.
a sentimental longing or wistful affection for the past, typically for a period or place with happy personal associations.
We may not even realize it, but our first memories of anything containing pumpkin spice was most likely experienced when our families were gathered together for a holiday such as Thanksgiving and Christmas. It was likely a comforting, "homey" time at our grandparent's house with holiday aromas that overwhelmed us and made us feel content and cared for. Scientific studies even tell us that the combination of cinnamon, nutmeg and clove does something weird, yet good, to the brain!
Every time we order a pumpkin spice latte at our favorite coffee shop and maybe even a pumpkin muffin to go along or pumpkin bread, pumpkin roll, pumpkin pie and on and on it goes…we are reliving a fond memory even if we don't realize it and releasing endorphins in the brain that make us want to get out an orange fall sweatshirt appliqued with leaves and acorns.
Many bring in kindling for a fire in the fireplace and burn cinnamon roll flavored candles in their family rooms. Others run to the store to get all of their favorite ingredients for fall baking.
The fully-engaged will decorate their porches with pumpkins, bales of hay, mums and fall wreaths to show they are in the spirit of the season. #ilovefall
As the years have gone by, the pumpkin spice craving has invaded the expected and the absolutely-who-sits-around-and-thinks-of-these-things-the-normal-person-wouldn't-expect-in-their-lifetime combinations. Take for instance:
Pumpkin Spiced…
Twinkies
Cheerios & Frosted Mini Wheats
Glade Room Spray
Mustache wax
Peanut Butter
Dish Soap
Lip Balm
Greek Yogurt
Pringles
Extra Gum
Tortilla Chips
Oreos (There should seriously be a law)
Milk (to go along with the Oreos!
And, of course, we could go on until Jesus comes back with all the new creations but back to our verse…the commentaries explain the word "thoughts" here to mean branches of trees, thick and entwined. Complicated, busy or distressing thoughts. God brings us comfort in so many ways. He relieves us of those anxieties, and complicated or distressing thoughts, with His loving comfort, in an instant, if we will allow Him.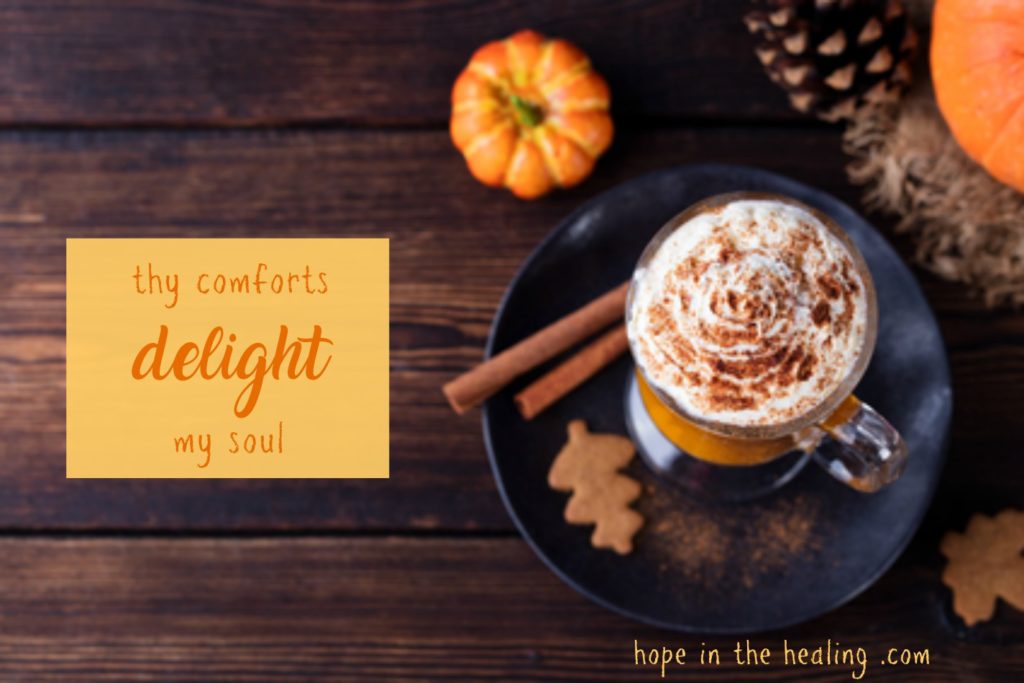 The Comfort of His Presence: "Honor and majesty are (found) in His presence; strength and joy are (found) in His sanctuary." 1 Chronicles 16:27 AMP.
"There shall not any man be able to stand before thee all the days of thy life: as I was with Moses, so I will be with thee: I will not fail thee, nor forsake thee." Joshua 1:5.
The Comfort of His Love: "I have loved you with an everlasting love; I have drawn you with loving-kindness." Jeremiah 31:3, NIV.
"And I pray that you, being rooted and established in love, may have power, together with all the saints, to grasp how wide and long and high and deep is the love of Christ, and to know this love that surpasses knowledge – that you may be filled to the measure of all the fullness of God." Ephesians 3:17-19, NIV.
The Comfort of His Security: "The LORD is my rock, my fortress and my deliverer; my God is my rock, in whom I take refuge. He is my shield and the horn of my salvation, my stronghold." Psalm 18:2.
"When thou passest through the waters, I will be with thee; and through the rivers, they shall not overflow thee: when thou walkest through the fire, thou shalt not be burned ; neither shall the flame kindle upon thee." Isaiah   43:2.
The Comfort of His Promise: "So Christ was offered once to bear the sins of many. To those who eagerly wait for Him He will appear a second time, apart from sin, for salvation." Hebrews 9:28 NKJV.
"For the Lord himself will descend from heaven with a cry of command, with the voice of an archangel, and with the sound of the trumpet of God. And the dead in Christ will rise first. Then we who are alive, who are left, will be caught up together with them in the clouds to meet the Lord in the air, and so we will always be with the Lord." 1 Thessalonians 4:16-17 ESV.
What kind of comfort do you need today?
Chicken soup is good. A nice cozy blanket is appealing. Even a blazing fire makes us feel warm and toasty inside. And now there is a Maple Pecan Latte just begging us to inhale its sweet, sugary goodness.
But all of those things are temporary and they do not fill the soul.
Only the Great Comforter can do that. He is the One to hold you up, calm the thoughts within and delight your very soul.
Please let me know how I can pray for you today. Embrace the scriptures in this post and claim them as your very own. Insert your name and pray them outloud and allow Jesus Christ to become the Comforter that truly fills the void in your life.
As an extra bonus today…you can view my Pumpkin Spice Creamer and Simple Syrup post here and an easy creamer recipe with variations here!