Are You A Wounded Healer? You may not even know there is a name for it; you are too busy doing what needs to be done. You have been wounded, hurt, maybe even abused.  We are all wounded throughout our lives, physically, emotionally, psychologically; some of us have been hurt in more ways than we can remember.
A Wounded Healer is one who, although they have been wounded time and time again; they learn to take those experiences and use them to help others during their time of loss, tragedy, grief, and pain or illness. They realize that though they have suffered, they have also learned, and they can now benefit from that suffering.
Now they have become a Wounded Healer.
God isn't causing the pain but He can use the pain to get your attention and help you grow and teach you compassion and grace. You learn how to minister to others in the middle of your own pain and it helps you heal!
I believe that is what the scripture means when it says, "And we know that God causes everything to work together for the good of those who love God and are called according to His purpose for them." Romans 8:28 NLT.
Several years ago some dear friends of ours lost their teenage son in a terrible car accident. He was transported to the hospital and not expected to make it through the night. Their cousins, who had lost their own son at the age of five, heard about the accident and rushed to the hospital to be with them. They were one of the very few who KNEW what that Mom and Dad were going to face in those critical hours ahead and they wanted to be there for them. Sure the hospital was full of people, but there were not many Wounded Healers close by and it was a blessing to have them when they faced the tragedy of losing their oldest son.
These special Angels of Mercy will probably not have a set of initials after their name, they won't claim to know it all, and they won't have all the answers.  But they know how to listen, they know how to care, they show up with a casserole, a care package, they sit with you through the night if need be. Sometimes they say nothing at all. They've been there. They were wounded, they know. Silence is golden, a hug is better than words.
Jesus is a Wounded Healer. He experienced our wounds by coming in flesh so that He could feel what we feel. "But He was wounded for our transgressions, He was bruised for our iniquities; The chastisement for our peace was upon Him, and by His stripes we are healed." Isaiah 53:5. NKJV.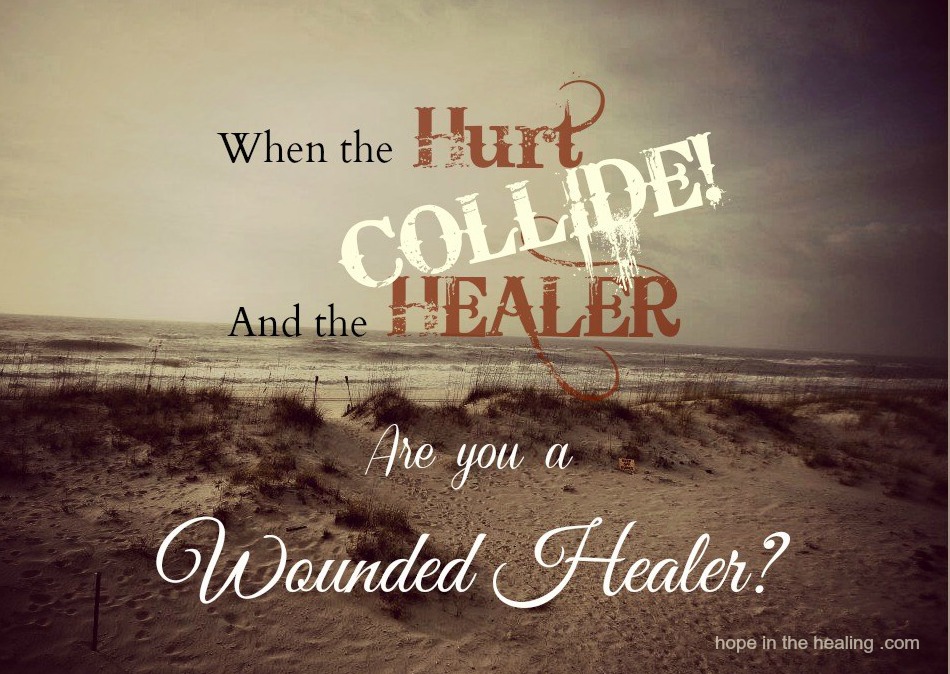 If you have damaged emotions and physical and emotional scars, Jesus is able to take care of those. He gave His life at Calvary and rose again so that we could have eternal life AND be healers on this earth. We cannot have open wounds and be a healer, we must have those taken care of and Jesus is the One who can heal our hurts so we can become the blessing God intended.
Maybe you have never thought you had anything to offer. My friend, I am certain you do. If the Lord has forgiven you and restored you, pray for opportunities to give others hope and a light at the end of their tunnel. Pray for wisdom above all, it is not an easy road to walk but there are great rewards.
Are there areas in your life where you have had opportunity to be a Wounded Healer? I would love to hear about them! Has someone else been a Wounded Healer to you? Feel free to share your thoughts and encourage others here today.