Pattern your life after me?
"Brethren, be followers together of me, and mark them which walk so as ye have us for an ensample."  Philippians 3:17
Paul is speaking to the church in Philippi and gives quite the dissertation explaining to them his credentials first of all, and that he had the authority to even speak to them. He was a Jew by birth, but had abandoned everything in order to follow Jesus Christ.
In verses ten and eleven he says,'That I may know him, and the power of his resurrection, and the fellowship of his sufferings, being made conformable unto his death…"
He didn't want to just know about Him, he wanted that personal relationship with Him.
And finally, he gets to what he wants to leave them with… "Dear brothers and sisters, pattern your lives after mine, and learn from those who follow our example."
Paul was telling them to learn from what he had learned. Follow in his footsteps, pattern their lives after his life. Why?
Because Paul was following Jesus Christ.
He had walked where Jesus walked.
He had endured trials and tribulations.
Paul had also been

beaten
threatened
starved
imprisoned
lied about
stoned
and many, many other atrocities had been committed against him.
And in all of these things he had NOT wavered. He had learned to give God praise, and to endure, despite his sufferings.
"Of the Jews five times received I forty stripes save one. Thrice was I beaten with rods, once was I stoned, thrice I suffered shipwreck, a night and a day I have been in the deep;  In journeyings often, in perils of waters, in perils of robbers, in perils by mine own countrymen, in perils by the heathen, in perils in the city, in perils in the wilderness, in perils in the sea, in perils among false brethren;
In weariness and painfulness, in watchings often, in hunger and thirst, in fastings often, in cold and nakedness. Beside those things that are without, that which cometh upon me daily, the care of all the churches." 2 Corinthians 11:24-28.
The Early Christians didn't have the New Testament to read…no self-help books, Matthew Henry commentaries or Google search to look up hundreds and hundreds of devotions and sermons online.
But they had Paul.
He had lived through persecution after being the Persecutor! Yet, in all of those things he still continued to be faithful and his concern was for the care of the churches.
Could we say the same as Paul did? Could we assuredly tell others to, "Pattern your life after me."? (Of course correct grammar would change my title to "Pattern your life after mine"? But then my graphic image wouldn't rhyme!) (insert smile here).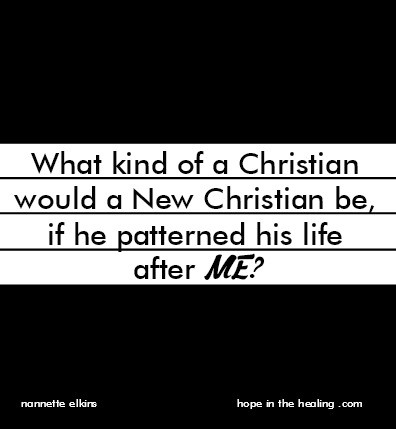 A sobering thought!
We have all heard it said that we may be the only Jesus that some people ever see or the only Bible they will ever read. That is why we must be so careful the way we live our Christian lives. That doesn't mean we walk on eggshells all the time, scared to death we are going to make mistakes.
"Ye are the light of the world. A city that is set on an hill cannot be hid. Neither do men light a candle, and put it under a bushel, but on a candlestick; and it giveth light unto all that are in the house." Matthew 5:14,15.
What it does mean is that we should be sure to spend time with the Savior. And the more time we spend with Him, the more we become like Him…the more we radiate His glory and His goodness…then others will see the Lord Jesus Christ IN us. They will want to know Him because He shines through us.
That is what Paul was talking about…pattern your life after me because I KNOW HIM!!