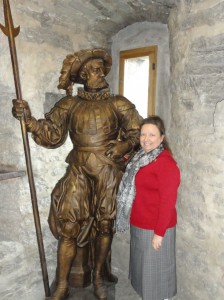 Wife, mother, daughter, sister, friend, I've seen all of these titles on the blogs of others and wondered how I would describe myself when it came my turn. Sure I am all of those things and many more, we all are. I may be older than most, younger than some, weathered more seasons than many, still to discover some rough pages in time, but I guess what best describes me, and what I want most is to be TEACHABLE.
My name is Nannette for those who don't know me. Yvonne Nannette Elkins….yeah it's a rough one. I blame it on my mother. See my tab titled Candace Jo for the fun story behind the "other" name.
I have been married to my absolute best friend in the whole wide world for 35 years, my Doogalas, as they called him in Latvia. We were blessed with three of the best sons on the planet, Kyle, Kristopher and Korey Ross. I never had a little girl but if I had, I always wanted to name her Rachel. One day I introduced my eldest to a beautiful young lady named, you guessed it, Rachel, and the rest is history. They have been happily married for twelve years. Isn't God cool? So I got my Rachel and a wonderful DIL at the same time!
My husband blessed me by letting me stay home with my boys after he finished his schooling with the FAA and enjoyed his work as an Air Traffic Controller Supervisor for over 15 years. But during that time God was calling us into full-time ministry and we answered that call in 2001 and finally gave it all up, walked away and never looked back.
In 2010 we answered another call to go overseas and work in the country of Estonia for three months and Latvia for a year. What a difference it has made in our life! We are still involved in the work of God in the Baltics and are now sharing in the States what God is doing there, and can do in the USA, in the form of Revival By Design, which you can read about here.
Besides the blog, I also am privileged to write monthly for Internet Cafe Devotions with a wonderful group of writers who inspire and encourage others to grow closer to Jesus Christ.
Be sure and sign up to follow my blog via email, Bloglovin', Facebook and Twitter!
Be blessed!