So, I received an IN-vite. The #FiveMinuteFriday word prompt today is IN-vite. Let's try that again, for this post only, if you want to keep your circle of friends, the emphasis must be on the first syllable. Make it long and drawn out and then cut off that second syllable as if it were offensive to you. INNN-vite! 
Growing up in southern Indiana, I may or may not always been grammatically correct in all of my speech. It wasn't that I was illiterate, it wasn't that I didn't receive good grades or that my parents had not taught me better, but sometimes Hoosiers just choose to say some things differently. One such contraction is that of you'ns or you'uns; which when used properly, slides off the tongue closer to yuns. What in the world does it mean, you ask? Well, that is easy, it is just Mid-western slang for You guys, you-people-over-there, all you folks taking up space, or for my Tennessee friends and anyone south of Louisville, ya'll. Or, all ya'll which means anyone sitting close by, anyone related by birth or marriage, including sixth cousins twice removed and those connected to, or even remotely associated with those that you are speaking to at the time.
So, it is not strange, odd or even weird that other words were also possibly pronounced differently. Words such as INNN-vite, especially spoken by the Greatest Generation (for clarification purposes, that means those from the WWII era, not you millennials) were special. We knew they meant invitation but that was high-falutin' (another fave), puttin' on airs, and just too much trouble on a hot summer day to assemble and roll off the tongue. INNN-vite would do.
I remember my grandmother telling me when she received my wedding invitation in the mail, "Honey, I got your INNN-vite today and I will be there with bells on!" I can still hear her saying it as if it were the most important invitation she had ever received. Of course I knew that her shortened version was a verb and not a noun, I knew it wasn't used correctly, but it wasn't the pronunciation that was important; it was the fact that the invitation had been received. She was included, thought of and wanted, for a special occasion.
Jesus invited the woman at the well to experience living water. When the God of the universe issues an INNN-vite, you sit up and pay attention, you go call your friends and extend your own invitation for them to "Come, see a man who told me all that I ever did."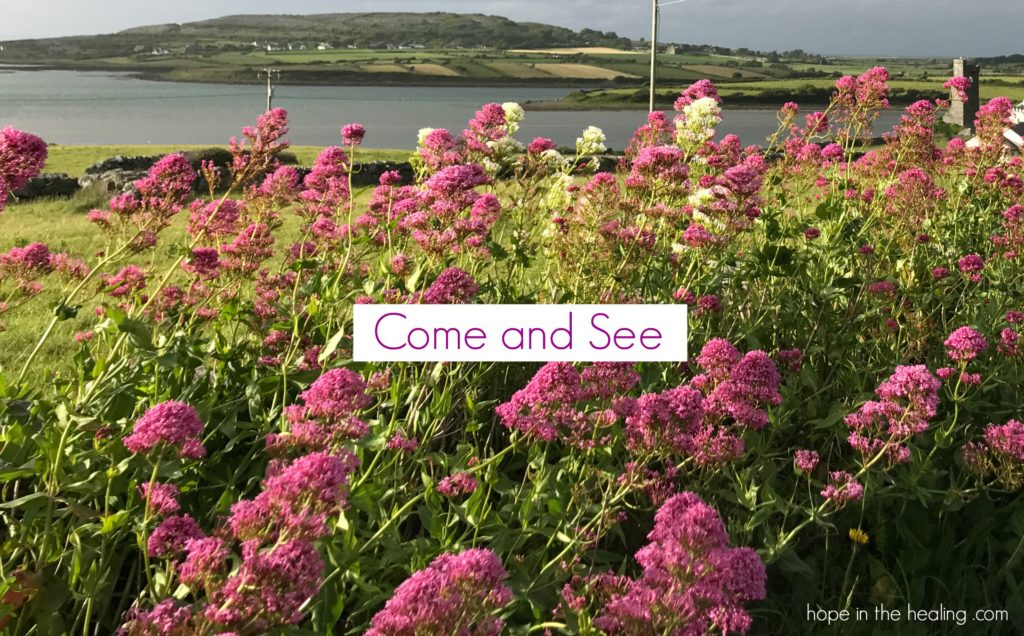 The Pharisee invited Jesus into his home…
Peter invited the messengers of Cornelius to spend the night…
The Ethiopian eunuch invited Philip to sit beside him in his chariot and then Philip invited him into the Kingdom by preaching Jesus…
And Jesus continues to invite each of us to experience this living water, this New Birth. It was not just at the well in Samaria, it continues today, a couple of thousand years later, to everyone who reaches out to take it. He invites us to leave behind our past, our sins, our heavy burdens, shame, fear and so much more. The price has been paid, the debt no longer hangs over our heads and we can live victoriously as those who have been grafted in, who have been generously invited into this Kingdom, not as observers, but as children of God!
And we should continue to invite people to know Him. Invite them to church, invite them to small groups, to individual Bible study; just invite them to coffee! Extend a hand of fellowship, so to speak, and show the love of God, which is the magnet that draws them into the Kingdom.
Peter's life was forever changed when Jesus invited him to "Come, follow me." Our lives will never be the same if we respond to that INNN-vite; RSVP with a Yes and then don't forget the next line on that card. It asks, "How Many?" How many are we going to bring with us, to how many will we offer eternal life and deliverance from the weight of sin? Don't be afraid to ask, to extend that offer to just, "Come." Most are waiting and just needing that sincere, down-to-earth nudge.
You give the INNN-vite; Jesus will do the rest.