Taking a slight pause in our David's Mighty Men series to participate in #FiveMinuteFriday. I couldn't resist when I saw that today's word prompt is TRUST. Enjoy this true story!
Several years ago while pastoring in a little town in Northwest Missouri, we had a visiting minister for the weekend. This young man was a friend of our middle son and we were excited to have him and his wife as our guest speakers. He had an engaging personality and the congregation immediately liked him.
During his message, he wanted to make an illustration and called our youngest son up to help. You have all seen someone stand a few feet away and ask you to fall back into their arms, signifying your trust in this person. No big deal and Korey was a willing participant; did what he was told, he fell backward.
And landed fast and hard on his backside on the floor.
The gasps from the congregation (and likely Korey's mother!) were not stifled. They were all in shock that he didn't even attempt to catch their pastor's son. (Who also is afflicted with scoliosis…he likes to use that when it is convenient.)
I wish I could tell you what he was preaching about, what his point was and why-in-the-name-of-all-that-is-good-and-right he would allow my son to fall. I do not remember but I am sure it had something to do with trust.
Korey trusted him. Completely or he wouldn't have taken such a hard fall.
The minister actually trusted Korey to take him at his word and fall back into his arms that were not there.
"Let the morning bring me word of your unfailing love,
for I have put my trust in you.
Show me the way I should go,
for to you I entrust my life." Psalm 143:8 NIV
There is One who literally sticks closer than a brother that we can entrust with our very lives. One who never fails and never steps back when we lean into Him.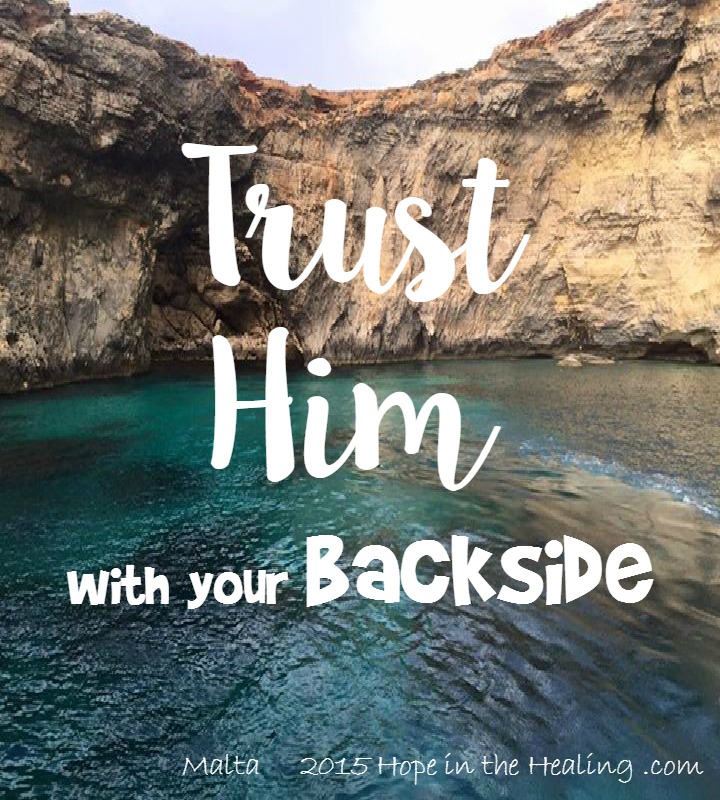 Jesus never sleeps, doesn't grow weary and doesn't look at us as too heavy to catch or our problems too small to step in and intercede.
"He will not let your foot slip—
he who watches over you will not slumber…" Psalm 121:3 NIV
Do you lack trust in others and sometimes with just cause?
Are you afraid today?
"In God, whose word I praise—
in God I trust and am not afraid.
What can mere mortals do to me?" Psalm 56:4 NIV
No matter what comes against you in this life God is there. He promised to never leave us or forsake us but to go with us to the very end.
I've read a couple of accounts this week of more Christians being tortured, crucified and beheaded and their stories have encouraged me. Yes, encouraged me. For time and time again we read that in their darkest hour, (and friend, this is dark), they wouldn't renounce His name even though they knew it meant certain death. And when that moment of death came many were calling out, "Jesus!" It is reported that some of their faces were just like Stephen in the book of Acts; illuminated and reaching up as they said His name…as if they could see His face.
But He did promise to be there and usher us into Glory.
You may not be called on to give your literal life today but no matter how difficult your lot, God is faithful and you can Trust Him with your Backside…and your life. He will not let you fall!