The Sad Story behind I Heard the Bells on Christmas Day.  Surely this Christmas carol from Henry Wadsworth Longfellow is one of our most beloved. It is a beautiful medley with even more hauntingly poetic lyrics. Longfellow also penned the words to such classics as Paul Revere's Ride and The Song of Hiawatha.
When he wrote this Christmas treasure in 1864, the Civil War was still going strong, although Abraham Lincoln had just been reelected and there was hope that it would soon come to an end.
Henry and his wife Fanny were blessed with five children, Charles, Ernest, Alice, Edith and Allegra, and they made their home in Massachusetts.  In the summer of 1861, they were suffering a terrible heat wave and Fanny had decided to trim some of the heavy curls of their seven year old daughter, Edith. After she was finished, she wanted to preserve them and seal the locks in wax.
As she heated the wax to seal the envelope, some of it fell onto her thin dress and she did not notice it right away. The warm summer breeze blowing through the window set the dress on fire. Fanny went running into Henry's study and he tried to put it out with a small rug. When that did not work, he threw his arms around her to put out the flames and sustained terrible burns on his hands, arms and face.
Fanny Longfellow died the next morning.
A merry Christmas, say the children, but that is no more for me.   ~ Henry Wadsworth Longfellow
Between his grief and the severe injuries, Henry was not even able to attend her funeral. Fanny was the love of his life. She was the Sweet Hesperus he wrote about in The Evening Star.  "O my beloved, my sweet Hesperus! My morning and my evening star of love!"
Tragedy wasn't over for the Longfellow family. In late 1863, his eldest son Charles, now a Lieutenant, had been severely wounded and crippled in battle. Longfellow, who kept a journal, didn't post anything for Christmas that year. Heartache was taking a toll on his family.
The following year, on Christmas Day, 1864, Longfellow penned the words to the familiar carol we all love. You can sense his despair turning to hope as he writes, "God is not dead nor does He sleep; The wrong shall fail, the right prevail!"
I heard the bells on Christmas Day
Their old familiar carols play,
And wild and sweet
The words repeat
Of peace on earth, good-will to men!
And thought how, as the day had come,
The belfries of all Christendom
Had rolled along
The unbroken song
Of peace on earth, good-will to men!
Till, ringing, singing on its way,
The world revolved from night to day,
A voice, a chime
A chant sublime
Of peace on earth, good-will to men!
And in despair I bowed my head;
"There is no peace on earth," I said;
"For hate is strong,
And mocks the song
Of peace on earth, good-will to men!"
Then pealed the bells more loud and deep:
"God is not dead; nor doth he sleep!
The Wrong shall fail,
The Right prevail,
With peace on earth, good-will to men!"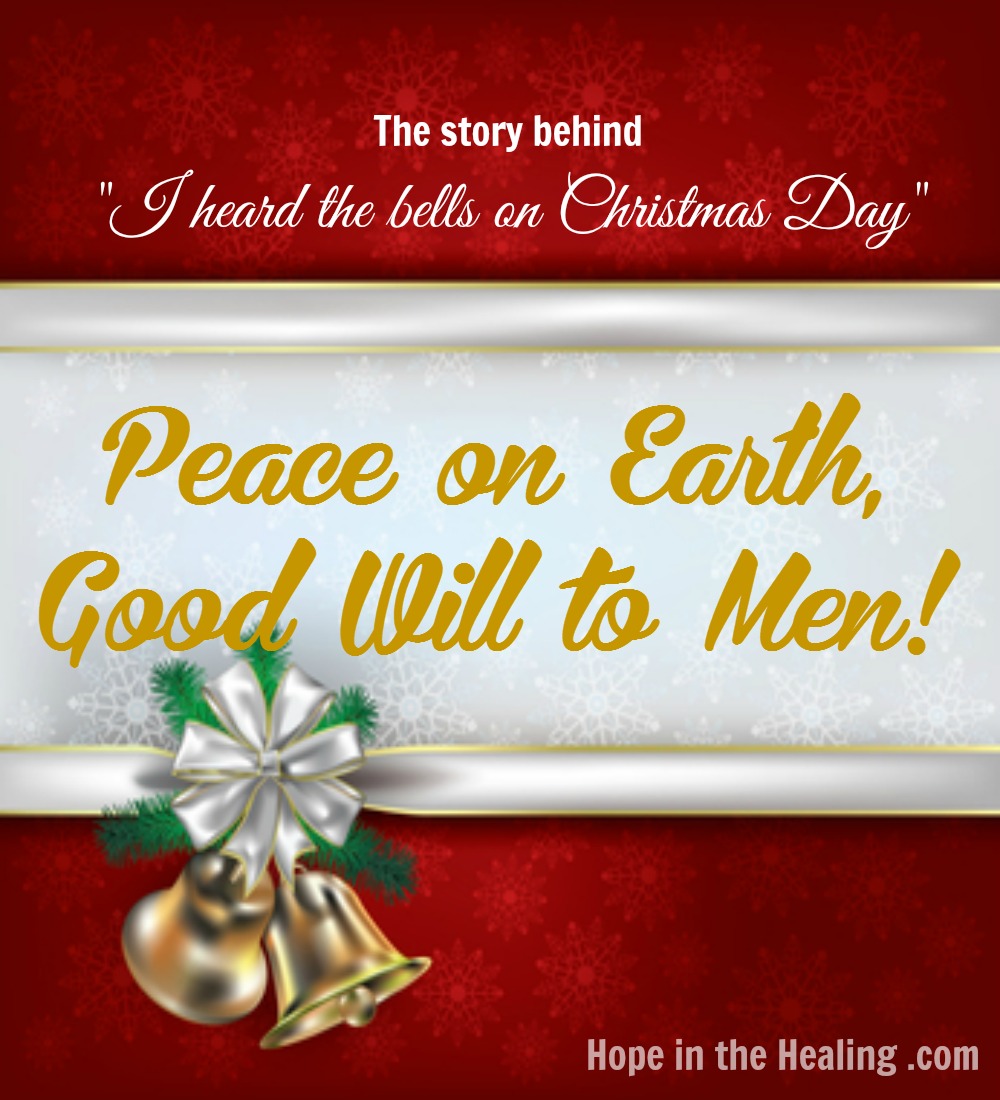 Hope prevails! Longfellow heard the bells on that Christmas Day so long ago in spite of the grief and misfortunes that had plagued his family for several years.
Hope was born one Christmas morning! "Do not be afraid; for behold, I bring you good news of a great joy which shall be for all the people; for today in the city of David there has been born for you a Savior, who is Christ the Lord." Luke 2.
This song is so precious to me; the words seem to leap off the page when you get to the last stanza! Aren't you glad to know your God is not dead; He does not sleep! He has everything under control and we can rest in His peace.
Do not let this Christmas season pass without stopping to pause and give thanks for that Hope. Take time to talk to the Savior who came so that we might be blessed with peace, joy and righteousness in our lives today. Even if our world is crumbling around us, we take comfort in knowing that all is well with our soul. He is our Hope!