Friends, my blogging has been hit and miss at best. Please forgive me. I needed a break, needed to slow down after the Daniel Fast in January. Then I had the most horrific issues with my blog and host server. A two week nightmare. Then, along came Norah Jayne. She is a huge distraction but one that I will take any day. On top of that, we are preparing to move south to be near that little bundle of joy. So, I admit I am distracted, which is what our post is about. I am thrilled to be writing and sharing today for #FiveMinuteFriday and I pray it is a blessing to you. Thank you for your patience, I will be back on track soon!
When social issues keep us from being UNITED.
I can't think of a time in my 54 years that I have longed for a reprieve from the constant barrage of disagreement over social issues. Obviously, the flood of technology has made it so convenient to air one's opinion that everyone and their little brother can join the bandwagon.
To make matters even more overwhelming, we are in the middle of a presidential election, the most divided one I can remember. It keeps us stirred up all day long, every day, if we allow it to.
Friends, this is just what the enemy had envisioned, what he works for!
He is jumping for joy over our fascination with bathrooms right now. Of course I think it is an important issue and we shouldn't just give in. Let your voices be heard but please remember Who we represent! Threatening to beat up someone who walks into the restroom isn't the answer. (This is an easy fix as most businesses already have FAMILY restrooms; a single bathroom that anyone can use. Problem solved. #mytwocents)
But the world isn't looking for a solution…they are looking for division.
And dividing Christians among themselves, keeping us stirred up on social issues and distracting us from our real purpose is all in the plans of the enemy.
When things like this, agreeably important, sidetrack us from our actual mission, the reason we were put here on this earth, we are no longer united for the sake of the Gospel. Because of all of the social media tools and television, radio, etc., we are bombarded all day long with negativity and division, all the while forgetting we are living in the Last Days and the Lord will surely come soon.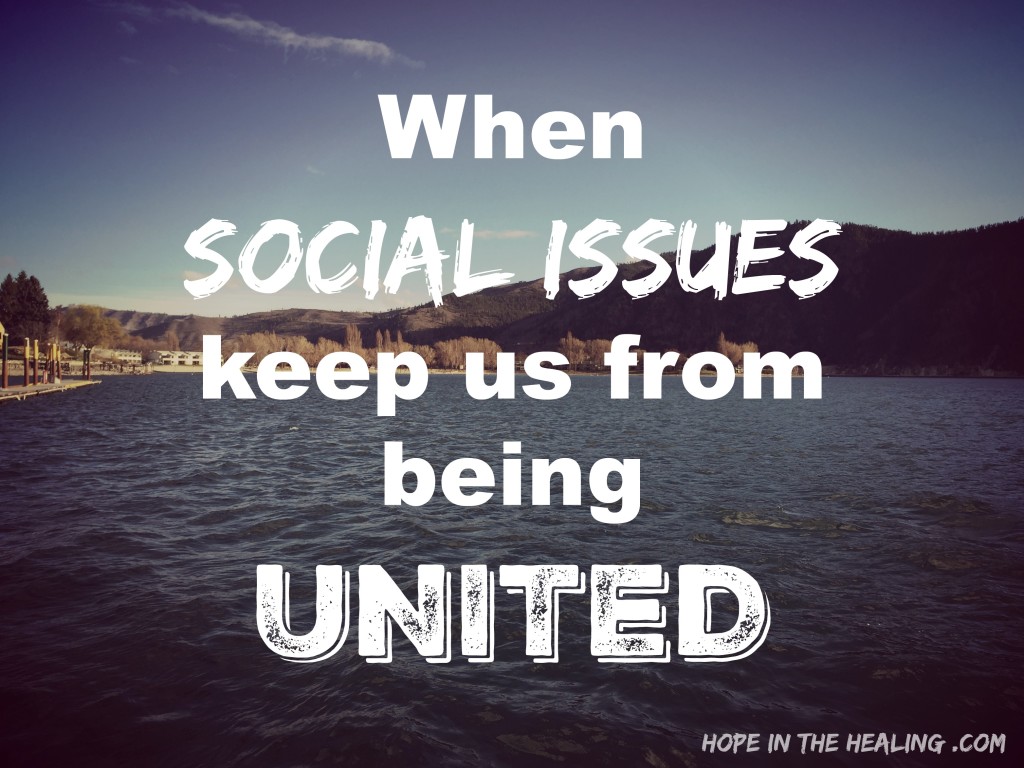 So, what should we do to UNITE? 
Pray! Okay, so that sounds too simple and maybe to some too hard but it is our first weapon of choice! The Bible says to,  "Finally, be strong in the Lord and in the strength of his might. Put on the whole armor of God, that you may be able to stand against the schemes of the devil." Ephesians 6:10-11 ESV.
How can we be strong? Only by putting on the armor of God, which the chapter in Ephesians tells us is applying His Word to our hearts and minds. Read it!
Focus. The Lord told us in His Word that these things would come upon us before His return. Why are we surprised?! It's going to happen and it's going to get worse but we weren't put here to walk the streets for social change. We've read the back of the Book, it's not going to happen! Don't get me wrong, as I said, we need to stand up for our rights especially to protect our children. But the bottom line is most of these things will continue and get worse as the persecution of Christians becomes more blatant and obvious.
Let us set our minds and efforts on telling others about the good things of God! Share your testimony of what He has done for you. Let them know about the wonderful services your church is having and how others are coming to Christ. Invite them to a home group Bible Study or to a church service…they just might come! Offer to pray for a specific need they might have and then actually take time to pray for them.
The millions of hungry souls out there do not really care what we think about separated bathrooms.
They want to know if there is any hope left in the world. YES! There is! Tell them Jesus died for them. Give them HOPE in a world full of hopelessness! 
They are watching you. The world is watching us. Many want to see The Church divided but that's not what we were made to do.
We are UNITED.
"One Lord, one faith, one baptism, One God and Father of all, who is above all, and through all, and in you all." Ephesians 4:5, 6. ESV.