Holy Week.
So many images, memories, and scripture come to mind. A lifetime of Good Friday's, and Resurrection mornings!
I have even been to a few Sunrise Services over the years. Even though I might have grumbled and complained a little at the time, they were wonderful experiences. Getting up before dawn just to be at church, or an outside gathering, to celebrate the resurrection of our Lord is special. Very special.
I was not raised in a liturgical church and do not celebrate lent in the way that some do although this year I have tried to be more attentive to the season and more prayerful. But I do love and revere the week of Easter. Palm Sunday, Good Friday, Easter Sunday and everything in between,  should be a time to give thanks.
Strong's Concordance gives the original meaning of "Hosanna" as "Save now, or Save, please", specifically in the Old Testament where it is referenced in the Psalms. "Save now, I beseech you, O LORD: O LORD, I beseech you, send now prosperity." Psalm 118:25.
And Clarke's commentary has this to say,
"Save now, I beseech thee – These words were sung by the Jews on the feast of tabernacles, when carrying green branches in their hands; and from the הושיעה נא hoshiah nna, we have the word hosanna."
So when Jesus entered Jerusalem, humbly riding on a donkey, or colt, it would have been appropriate for the Jewish people to cry out,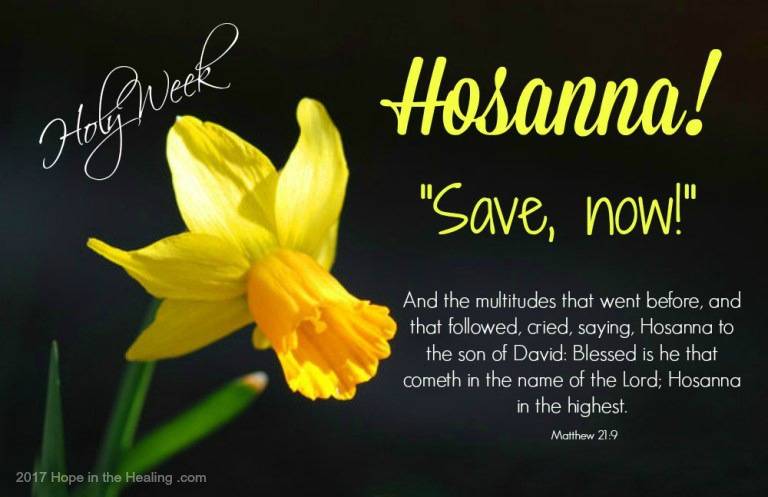 Some assumed He had come to reign as King on this earth, to save them from their life of "serving" the Romans. They wanted a deliverer and they thought He had come to reign on the earth as king.
But to others the term had changed over the years to mean something a little different. Psalm 118:26, the very next verse, is followed with; "Blessed be he that cometh in the name of the Lord." This cry for help, "Save now!" was immediately answered with shouts of praise that the Deliverer was coming! Salvation was on its way! Whether they recognized it or not, the answer to their prayers was entering the city.
They would not only be delivered, they would truly be SAVED!
Saved from their sins and made new creatures! "Therefore, if anyone is in Christ, he is a new creation; old things have passed away; behold, all things have become new." 2 Corinthians 5:17.
Saved to rise again on that great, and coming, Day of the Lord! "For the trumpet will sound, and the dead will be raised incorruptible, and we shall be changed." 1 Corinthians 15:52.
Saved to live a life full of the Spirit of God, sharing the Good News! "But ye shall receive power, after that the Holy Ghost is come upon you: and ye shall be witnesses unto me both in Jerusalem, and in all Judaea, and in Samaria, and unto the uttermost part of the earth." Acts 1:8.
Saved to make a difference in the life of others! "For even the Son of Man did not come to be served, but to serve, and to give his life as a ransom for many." Mark 10:45.
And saved…to someday spend forever with the Lord. "He that overcometh , the same shall be clothed in white raiment; and I will not blot out his nameout of the book of life…" Revelation 3:5.
He gave them more than they imagined, more than they ask for. He gave His very life so that they (and we!) would not have to.
He came as Hosanna…in the Highest…and then forever changed the world.
Join me all this week as we reflect and celebrate the Resurrection and feel free to share your Holy Week remembrances with us!