Every time I hear the phrase "Count it All Joy" I can't help but go back in time and hear a little girl in the fictional town of Odyssey sitting on a bar stool in a malt shoppe. A wonderful older man, Mr. Whitaker, would be counseling her about the "trial" she was going through at the time, and her little doubt-filled voice would remind you of Eeyore of Winnie-the-Pooh fame. "Count it all joy, count it all joy." She could barely lift her head up, it was all such an effort…(if you are an Adventures in Odyssey fan you can hear the music in the background…"Hi this is Connie!")
It started out with Erica complaining to her friend Kim about practically everything in her complicated middle-school life. Kim gets so tired of hearing it she "blows up" and tells her friend she doesn't know how good she has it and she should, "Try being happy once in a while!"
When Erica shows up at Whit's End, the favorite hangout for the kids, she runs into Jenny, who is blind. Erica asks her how she always seems to be so happy even though she cannot see. Jenny tells her that she lives by James 1:2-4, "My brethren, count it all joy when you fall into various trials, knowing that the testing of your faith produces patience. But let patience have its perfect work, that you may be perfect and complete, lacking nothing." James 1:2-4 NKJV.
She said whenever she gets down or starts to feel sorry for herself she just starts saying, "Count it all joy; count it all joy…" and it usually works!
So, Erica gives it a try. In every situation that comes up she tries to use Jenny's formula. Every time she gets upset she says, "Count it all joy; count it all joy."
She loses her homework, "Count it all joy." But it doesn't work. She is still mad. Every time she tries it she only gets more agitated and what works for Jenny seems to backfire on Erica.
Mr. Whitaker offers some wise advice that we all can learn from. Erica has confused joy with happiness. Joy has nothing to do with the way that we feel.
We cannot always be happy but we can always be joyful!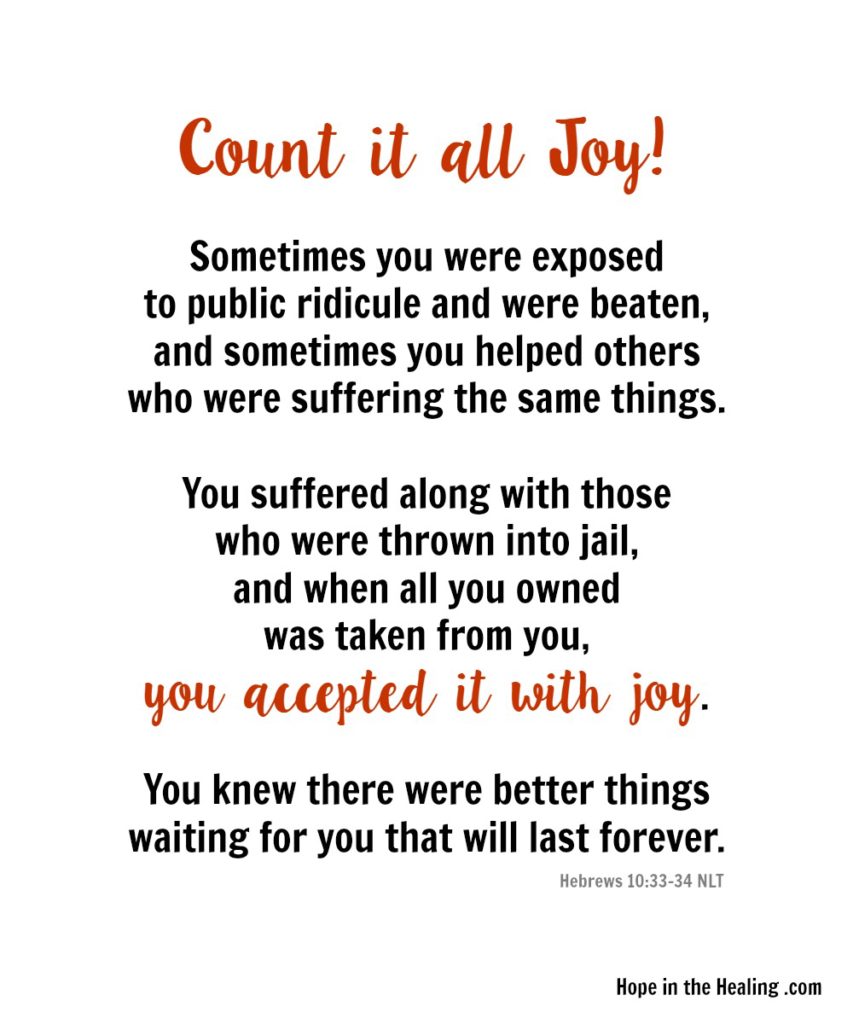 We count all things joy because God is working in all situations, even when we think He has forgotten us, they are for a purpose.
Our instinct is to avoid conflict, turmoil, anxiety and personal pain at any cost. We even spend a good deal of time and money on counseling, exercise, nutrition, anything that will help us to avoid things that will bring us discomfort.
But according to scripture; trials, heartaches and suffering WILL COME in the life of a Christian.
Looking at the tenth chapter of the book of Hebrews, it seems that they approached their struggles a little differently: "Sometimes you were exposed to public ridicule and were beaten, and sometimes you helped others who were suffering the same things. You suffered along with those who were thrown into jail, and when all you owned was taken from you, you accepted it with joy. You knew there were better things waiting for you that will last forever." Hebrews 10:33-34 NLT.
These things happened all the time for the early Christians; they were daily occurrences! So how did they get through?
They kept their eyes on the reward!
"They knew that the persecution, that was only temporary, could not begin to compare to the eternal reward. For I reckon that the sufferings of this present time are not worthy to be compared with the glory which shall be revealed in us." Romans 8:18.
This is what our Lord and Savior did. He was able to endure the cross because of the joy that was set before Him. "Therefore we also, since we are surrounded by so great a cloud of witnesses, let us lay aside every weight, and the sin which so easily ensnares us, and let us run with endurance the race that is set before us, looking unto Jesus, the author and finisher of our faith, who for the joy that was set before Him endured the cross, despising the shame, and has sat down at the right hand of the throne of God." Hebrews 12:1-2 NKJV.
There is still joy in the everyday living. You can and will get through each trial if you are trusting in the living God.
"But also for this very reason, giving all diligence, add to your faith virtue, to virtue knowledge, to knowledge self-control, to self-control perseverance, to perseverance godliness, to godliness brotherly kindness, and to brotherly kindness love… for if you do these things you will never stumble; for so an entrance will be supplied to you abundantly into the everlasting kingdom of our Lord and Savior Jesus Christ." 2 Peter 1:5-10 NKJV.
Do you CHOOSE Joy? What we go through on this earth will not be able to be compared to what is waiting for us in heaven! As the old song says,
It will be worth it all, when we see Jesus,
Our trials will seem so small, when we see Christ!
One glimpse of His dear face, all sorrows will erase,
So bravely run this race, 'til we see Christ!
Were you an Adventures in Odyssey fan? Come on, I am admitting I loved it as much as my boys! We all listened to it as a family on vacations. Let's get the conversation going!