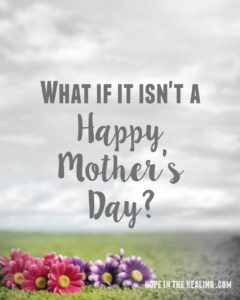 What if it isn't a Happy Mother's Day? Mother's Day weekend is a time of gathering, celebrating and loving on those in this world who give so very much. But for some it is one of the most difficult times of the year.
If you have lost your mother, if she has fought a good fight and reached her reward, your heart is grieving, broken. My prayer is that God will send a forgotten memory to you and love you through that sweet memory of your mother this weekend. It is okay to grieve and it is healing to sit down and have a good cry! Relive the good times and find joy in the blessings that your mother brought to your life.
If you do anything this Sunday, take time to sit and REMEMBER. Remember how blessed you were by your mother and the way she shaped your life. Her influence lives on in you and you will pass so much of her on to your own children.
May you be comforted by all the great things she was to you and your family and rejoice that you will be reunited one day!
For those with a Momma's heart but nothing to fill it yet…I have not walked in your shoes and cannot imagine the pain. I have walked it alongside my sweet daughter-in-law and son and remember every year that Mother's Day would roll around how very difficult it was for her to even go to church on that otherwise happy day. If you choose to go to Mother's Day service, I pray our Good Father wraps His arms around you and helps you to find an unexpected joy in a pew. Sometimes reaching out to others that are hurting is so very healing for your own soul. By serving, by giving, God will bless and cheer up your own hurting heart.
And if you choose NOT to go, if the pain is just too much, He understands your hurt and can comfort you wherever you are. But do your best to not hide on this painful day but find joy in blessing another. I have friends that would avoid that day at church and understand it is just too difficult for some who have lost so much or not been blessed with their hearts desire. Jesus truly knows your hurt. ♥
May God encourage you with His great love that He knows right where you are and although His timing is perfect, it is rarely ours. He hasn't forgotten you and will continue to weave your great story in His kingdom.
To write a post from this perspective when your mother is still living and you have three grown children might seem as if I just don't know what I am talking about and do not understand heartache and loss. I may not have walked the road, friend, but God can give compassion for us to love on those that are broken. He can help us understand and empathize with those that are suffering loss or have not experienced the joy of motherhood yet. My heart truly goes out to those who are hurting today.
We are called to be the church and encourage those that are broken, to walk this road TOGETHER.
So, if you find yourself sitting near a broken heart today, whether in church or at the dinner table, be a comforter, a doer, a friend. Share a hug, words are not even necessary if that is your struggle! Just let them know you care and if their heart is hurting, so is yours.
God wants us to love on those around us, whether our heart is full or aching. The best way to fill that longing is to give, love and serve. Love like Jesus and He will fill your heart to overflowing on Mother's Day and every day after.
"Charm is deceptive, and beauty does not last; but a woman who fears the Lord will be greatly praised." Proverbs 31:30