When Thanksgiving is Hard, but God is Good. For some, this Thursday, November 23, is going to be difficult. Wondering how they are going to make it through the day with a smile on their face. Others will be fighting back tears because of empty chairs at the table. Their heart hurts, and the reasons vary but the heartache is so real. If this is you? I am praying God will give you strength that only comes from Him and that spirit-filled peace that passes our understanding. Be encouraged by the two saints of God in the following post and be blessed knowing God sees you, loves you and is with you especially when it is hard.
Francis Jane Crosby was the author of over 9,000 hymns. Do you know she wrote so many that she began using pen names so that the hymnals would not be filled with her name alone?
Beautiful hymns such as:
Blessed Assurance Safe in the Arms of Jesus All the Way My Savior Leads Me Rescue the Perishing Jesus Keep Me Near the Cross
Born in New York, Fanny was ill almost from the beginning. One day, their family's regular doctor was out of town and another man, who claimed to be a doctor, prescribed hot mustard compresses to her eyes. She got over the sickness but the treatment left her blind.
Blindness didn't deter her from her love of life and her love for the Word of God; she memorized scripture every day; five chapters a week.
Fanny loved poetry and wrote her first verse at the age of eight: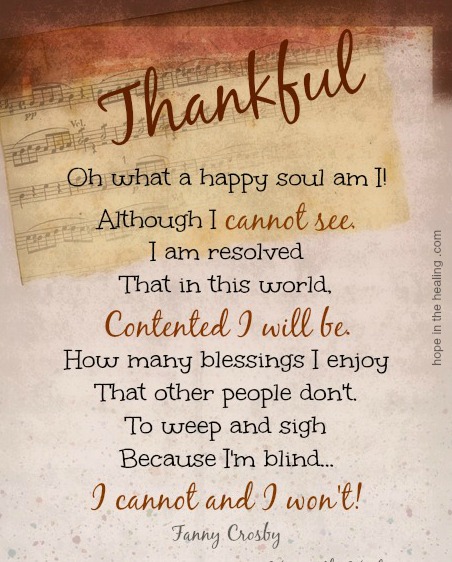 Fanny's attitude kind of reminds me of someone else we know; the Apostle Paul was one acquainted with grief. He had lived through many, many persecutions. Most of them were physical.
"Five times I received at the hands of the Jews the forty lashes less one. Three times I was beaten with rods. Once I was stoned. Three times I was shipwrecked; a night and a day I was adrift at sea; on frequent journeys, in danger from rivers, danger from robbers, danger from my own people, danger from Gentiles, danger in the city, danger in the wilderness, danger at sea, danger from false brothers; in toil and hardship, through many a sleepless night, in hunger and thirst, often without food, in cold and exposure. And, apart from other things, there is the daily pressure on me of my anxiety for all the churches." 2 Corinthians 11:24-28 ESV.
Wow. And we think WE are persecuted for the name of Jesus!
Drifting at sea
Stoned
Shipwrecked
Beaten
Dangerous rivers
Robbers
His own people
The Gentiles
The City
The Wilderness
False Brothers
Sleepless Nights
Hunger and Thirst
Cold and Exposure
And last, but definitely not least, he mentions the daily stress and anxiety brought on by the churches! 
Paul was under a tremendous amount of pressure. Remember, he was also blinded once on the road to Damascus. The Lord put him in that state for three whole days and his life was forever changed. Even though he regained his sight, he then saw things completely differently, through the Lord's eyes instead of his own.
But even in the midst of the tremendous persecution, Paul found joy.
"I know what it is to be in need, and I know what it is to have plenty. I have learned the secret of being content in any and every situation, whether well fed or hungry, whether living in plenty or in want." Philippians 4:12 NLT.
Contentment.
Paul knew that no matter what his circumstances were he could be content. Why?
Verse 13 tells us the answer:
"I can do all things through Him who strengthens me."
Maybe you are feeling as if you do not have much for which to be thankful. Maybe life is not treating you kindly, or fairly, and everything seems to be upside down, like a little bug on the ground who can't get turned back over on his feet.
God has not forsaken you. We understand that aren't promised a life full of sunshine and blue skies, but we are promised He will go with us. Sometimes your season of need may last much, much longer than you had anticipated or had hoped for. But like Paul, and Fanny Crosby, we can always find something to be thankful for.
Most importantly, do you know Jesus? I mean truly know Him? If so, you have something wonderful to be thankful for. To be in relationship with the King of Kings and Lord of Lords means we have an awesome responsibility to share this wonderful Truth with others and let our contentment be a great testimony of His keeping power.
Fanny didn't let her inabilities or her circumstances dictate her feelings. She didn't even pray for her sight to be restored. "Do you know that if at birth I had been able to make one petition, it would have been that I was born blind?" said the poet. "Because when I get to heaven, the first face that shall ever gladden my sight will be that of my Savior."
Neither did the Apostle Paul. In everything, even in the difficulties, he found a reason to be thankful. Paul didn't make it a practice to pray for things…he prayed that he might KNOW Him.
Grieving? Yes, it is good to grieve; it is necessary. But, in that grief, allow God to help you, strengthen you, speak peace into your heart and help you to find something to be thankful for this Thanksgiving. Just as the season moves on into another, this too will get easier and He will give you grace for each day as you draw closer to Him through your trial.
Enjoy this beautiful rendition of one of Fanny Crosby's hymns by Chris Tomlin! Let it be your praise today…