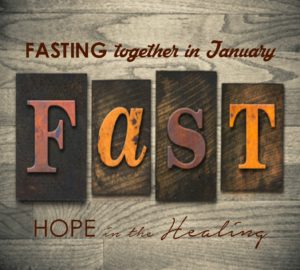 Fasting Together: Anoint your head, wash your face!
If you haven't begun a fast for the New Year, or if you are planning it out, whether it is a 21 day Daniel Fast or a 10 day juice fast or even if you are determined to fast a meal or two a week, God will honor a sincere sacrifice! Today we dive right in and I am including two healthy, staple recipes if you are on The Daniel Fast. This is an actual excerpt from my book, The Daniel Fast Devotional which you can get here. It will take you on a daily journey and is great to have with you for ANY FAST.
Let's go!
The Daniel Fast is a Biblically-based, partial fast taken from Daniel 1 and Daniel 10 when Daniel the Prophet refrained from eating anything but vegetables (this would have included fruits, although most participants do eat them) and drank only water. It is comparable to a vegan diet with a few more restrictions. We will talk about them further at the end of the post.
Daniel was born in the kingdom of Judah in a noble household. King Nebuchadnezzar conquered Jerusalem, taking 650,000 of Daniel's countrymen into bondage, back to his Babylonian kingdom. The king decreed that all of the young and handsome princes from Judah must go into a training program to work in the king's court. Daniel was among the chosen.
They were to be fed very well, with rich meats, sweets and plenty of wine. The only problem was that the men from Judah followed the Law of Moses and did not consume many of the foods on the list! Additionally, the Babylonians' food was usually part of a sacrifice to their idols. Daniel would most definitely not have consumed food used as a sacrifice to an idol made of stone, wood or any other material; He served the One, True God, Jehovah!
Daniel asked if he and his men could abstain from the rich and pleasant food for only ten days to prove that their way of eating, only vegetables and water was much healthier for their bodies. They agreed and… "At the end of ten days it was seen that they were better in appearance and fatter in flesh than all the youths who ate the king's food. So the steward took away their food and the wine they were to drink, and gave them vegetables." Daniel 1:15, 16 ESV.
Right away we see how beneficial a fast of this nature is to the body. In only ten days it was noticeable that these men were not eating rich foods! They looked better and they felt better.
For Daniel, it wasn't just about the right way to eat. He was connected to the Source as well. He served the Most High and wasn't intimidated by those around him. He fasted for the right reasons and God honored him.
You will be wasting your time if you are just cutting out meats, sweets, breads and your favorite fancy coffee but never take time to pray!
"When Daniel knew that the document had been signed, he went to his house where he had windows in his upper chamber open toward Jerusalem. He got down on his knees three times a day and prayed and gave thanks before his God, as he had done previously." Daniel 6:10 ESV.
Daniel is recorded to have prayed at least three times every day, usually at the same time. It is so helpful if you can start your day with the Lord, spend some time in His Word and get strengthened for the day ahead; you are going to need it.
If you have specific things you are fasting about, whether it is your job, finances, your marriage, children, extended family, direction, healing, restoration, whatever the need, ask the Holy Spirit for guidance.
If you have offended someone, or if there is sin that needs forgiveness, repent. Take care of that at the beginning of the fast. "If thy brother trespass against thee, rebuke him; and if he repent, forgive him. And if he trespass against thee seven times in a day, and seven times in a day turn again to thee, saying, I repent; thou shalt forgive him." Luke 17:3-4 KJV.
You will also receive strength to resist and to be able to turn from sinful habits. "Having therefore these promises, dearly beloved, let us cleanse ourselves from all filthiness of the flesh and spirit, perfecting holiness in the fear of God." 2 Corinthians 7:1 KJV.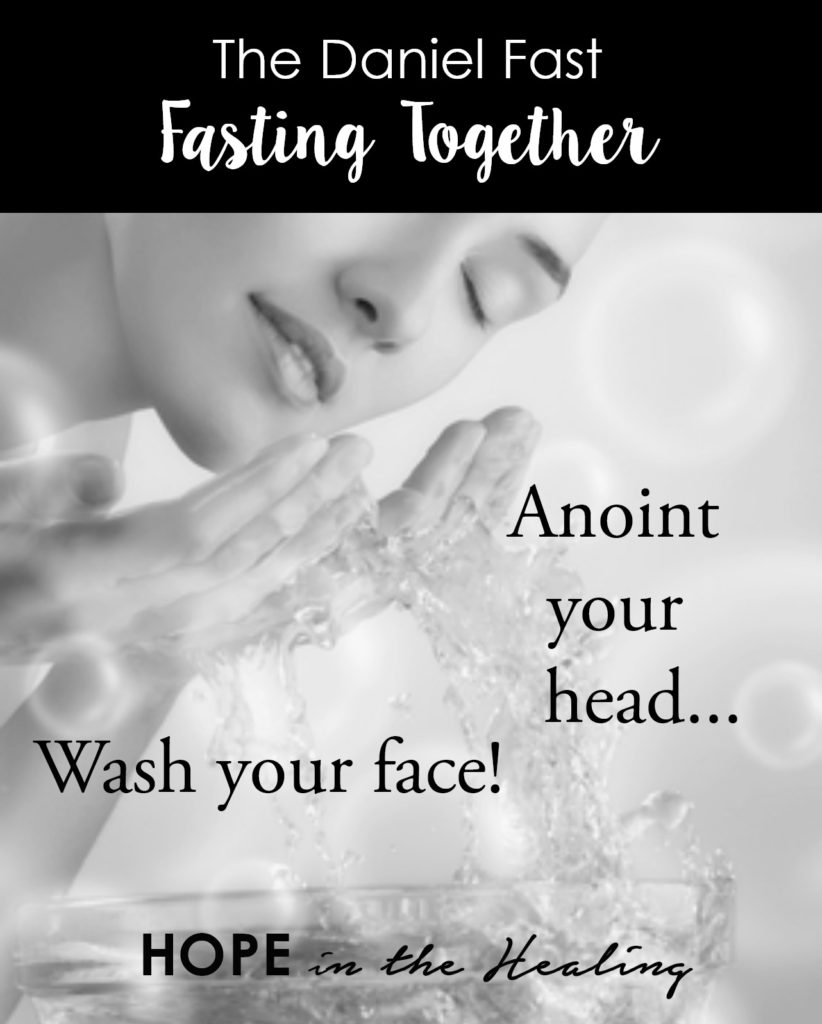 Hopefully, it goes without mentioning, (and in this case we aren't going totally without food), but let's go over it just for the record. We do not want to "appear to men to fast." Let us see what Jesus said about it: "Moreover when ye fast, be not, as the hypocrites, of a sad countenance: for they disfigure their faces, that they may appear unto men to fast. Verily I say unto you, They have their reward. But thou, when thou fastest, anoint thine head, and wash thy face; That thou appear not unto men to fast, but unto thy Father which is in secret: and thy Father, which seeth in secret, shall reward thee openly." Matthew 6:16-18 KJV.
We can understand clearly here Jesus was saying to not walk around with your head down, pouting that you have to fast. The Word says, "they have their reward", meaning that is all they have, recognition. They gloried in the appearance of fasting!
This should be something between you and God, unless of course your entire church congregation is doing it, then of course, that is a corporate fast and it is not a secret. It is also good to have a close friend praying for you during an extended fast. The purpose is to focus on Him and not bring attention to yourself.
The Lord will bless the sincere heart that seeks Him! So do it with all that is within you, every day, as a sacrifice unto your God, denying yourself pleasures that you would normally enjoy.
Do not try to make your new foods taste like your normal diet; otherwise it is not a sacrifice.
Remember, we are denying ourselves things that we enjoy, so we only eat until we are satisfied. We are not stuffing ourselves until we are sick.
You will still enjoy your meals and you will delight in this clean, healthy way of eating. One of my favorite things to make on the Daniel Fast is homemade granola. It is so good and healthy for you that I even make it sometimes when I am not on the fast. It is easy to do and makes a good large batch that can be put in an airtight container and eaten as it is or as a cereal in the mornings with some plain almond milk (not vanilla or flavored almond milk that would contain sugar).
Granola
3 cups oats
¾ cup coconut
¾ teaspoon cinnamon
½ teaspoon nutmeg
¼ teaspoon salt
½ cup coconut oil or canola oil
1 teaspoon vanilla and any kind of nuts and dried fruits desired
This recipe normally calls for up to ½ cup of raw honey but the Daniel Fast restricts honey calling it a precious food that Daniel would not have eaten while on his fast. Some still consume it, calling it a natural food. Others do not. I leave that up to the individual.
Mix the oats, coconut, and spices together. Grease a 9×13 pan or a sheet cake pan and add the dry ingredients. Mix the oil and vanilla (and honey if you use it) and incorporate into the granola, stirring until well mixed. Smooth out and bake at 300 degrees for about 30 minutes, stirring every 10 minutes so it doesn't burn on top. Let cool, then break up and store in an airtight container. Delicious alone or with unflavored almond or soy milk.
Add the fruit and nuts after the granola comes out of the oven. This is a base recipe that you can adjust to your taste.
Spinach Smoothie (You won't taste the spinach!)
1 ripe or frozen banana
1 cup frozen blueberries or raspberries or both!
1 cup unsweetened almond or soy milk
½ teaspoon cinnamon
½ cup fresh or frozen spinach
2–3 ice cubes (omit if using frozen banana)
Place the banana, berries, almond milk, cinnamon, and spinach in a blender; blend until smooth. Add ice to reach desired consistency and serve cold. Makes 1 serving.
One of our favorite meals was a simple dish of grilled vegetables, usually zucchini and yellow squash, red onion, mushrooms, maybe some peppers. If it's too cold for the outdoor grill, cooked in a cast iron skillet with a dash of olive oil makes them delicious! Then serve it over brown rice and add a salad with vinegar and oil dressing. Paul Newman's Own has a great one that fits the fast, and you have dinner!
Remember, the Daniel Fast, or any other, is to be a sacrifice. It is a time of commitment to the Lord, a time of drawing near to Him and denying the flesh of some of its pleasures. You do not want to gorge yourself on this fast. Just enjoy a regular meal with normal-sized portions. You will likely lose weight on the fast if you eat three simple meals a day and maybe two small snacks. I always lose 10-12 pounds on a three week Daniel Fast.
Make time at the beginning of your day to spend with God; you can do it! Set that alarm a few minutes early and you will not be sorry. Meditate on the Word. Feed on the manna that comes from above and just see how rich your mind and soul will become during this time of devotion to God. Our desire should be to know HIM.
We are not on a diet; we are striving to be more like Jesus. Paul said, "That I may know him, and the power of his resurrection, and the fellowship of his sufferings, being made conformable unto his death…" Philippians 3:10 KJV. God is well pleased as you sacrifice what is pleasurable to you on a daily basis.
Join me again tomorrow as we continue on and be sure and share this post and share YOUR thoughts, questions or insights!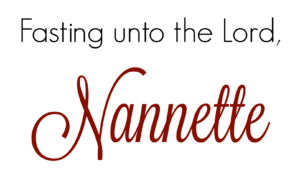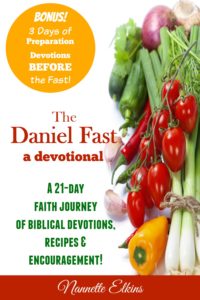 Need your own copy of The Daniel Fast, A Devotional? Get it on Amazon by clicking here!