---
Seal the stone, set a watch but Jesus is coming! It's Saturday…You can read the other posts from the Holy Week series Hosanna, Hanging on His Every Word, No need for the Sword, You were the Why on the Cross, Did Jesus really sweat blood in the Garden? and The Friday that was Good.  Be sure and come back tomorrow, before or after church, and we will wrap it all up. Blessed Easter!
There is not much information given in the Word of God concerning the day after the crucifixion.
But then there is Pilate.
He makes another entrance here, and even though we might not gain much insight as to what the disciples and family of Jesus are doing, we get a good look at those that crucified the Lord:
"Now the next day, that followed the day of the preparation, the chief priests and Pharisees came together unto Pilate,  Saying, Sir, we remember that that deceiver said, while he was yet alive, After three days I will rise again.
Command therefore that the sepulchre be made sure until the third day, lest his disciples come by night, and steal him away, and say unto the people, He is risen from the dead: so the last error shall be worse than the first."
Were they really afraid of this teacher? They said they were afraid of His disciples, that they might actually steal the body of Jesus and then present it to the people as if He had risen from the dead. Just like He said He would do.
Pilate was already in. He was in deep. He didn't originally want to kill this man, Jesus. His wife even warned him of her dream and begged him to spare His life. But Pilate was swayed by the people. He caved, gave them a murderer instead and allowed the crucifixion to proceed.
But now, he cannot afford for anything to go wrong!
"So they went, and made the sepulchre sure, sealing the stone, and setting a watch." Matthew 27:62-66.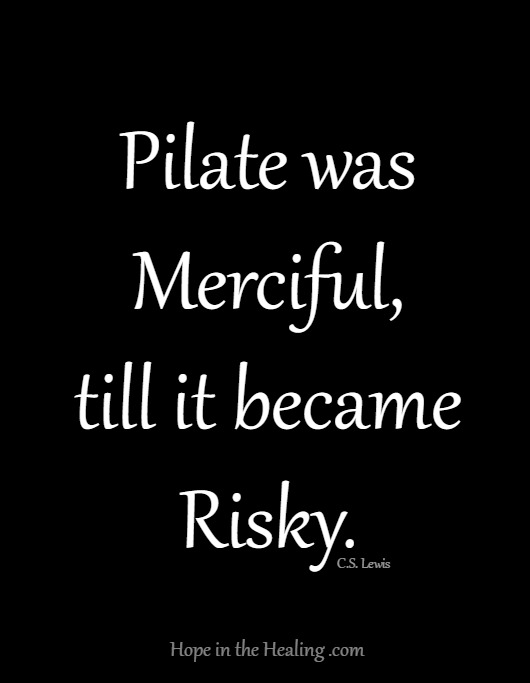 Seal the stone, set a watch, make it as sure as you can.
Pilate's attempts were pointless when it came to keeping Jesus from rising again. Even if he didn't believe it, if he was convinced that the disciples were the ones to try to move the body, it was all out of his hands at this point. God was in control and His Word had already declared that on the third day He would come up out of that grave!
And today, it is the same.
We cannot prevent the Word of God from being fulfilled. Prophecy has come true for hundreds and hundreds of years, and the last few prophecies will come to pass. Jesus will come again for His people, those that have made themselves ready for His appearing.
Are you trying to control things today? It is useless, friend. God was in control at Calvary, at the tomb and at the ascension. He is still in control of the events of this world today. Our hope is in Him and Him alone!
But He will be waiting for you, with arms stretched wide, waiting to welcome you into the family of God.
"Knowing that he which raised up the Lord Jesus shall raise up us also by Jesus, and shall present us with you."   2 Corinthians 4:14.
He came out of the earthly grave so that we, too, could triumph over death, hell and the grave! While we await His second coming, He wants us, YOU, to have a relationship with Him here. He wants YOU to come up out of the grave of depression, isolation, loneliness, emptiness and be set free because of Calvary. 
No matter what the soldiers did to keep Jesus from exiting that tomb, He was coming out anyway. Friend, there is no obstacle that God cannot move out of the way for you as well and this Easter weekend is a wonderful time for a total life change. One that matters for eternity. 
Enjoy this song from Kristian Stanfill, Glorious Day, better known as When I came out of that grave!